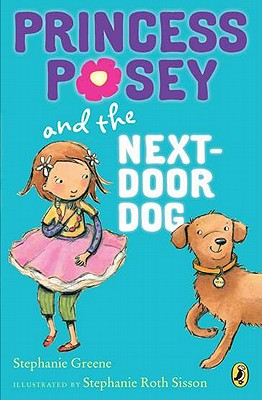 PRINCESS POSEY AND THE NEXT-DOOR DOG by Stephanie Greene, illustrated by Stephanie Roth Sisson
I'm excited to share Princess Posey as today's ReaderKidZ Holiday Countdown selection. It's a wonderful new early chapter series that I and the other primary teachers at my school have loved reading with our students.  The situations Posey finds herself in and the ways she solves her problems ring true and leave readers knowing that, just as Posey has, they too can tackle just about anything.
In the third book, Posey and her friends are writing pet stories to share with the class, but Posey doesn't have a pet. She wants a real live dog and when a new neighbor moves in next-door, Posey gets her hopes up. Maybe she can write about the next-door dog!
Before long, Posey's excitement turns to worry. The next-door dog has a giant-sized bark and ever since the long-ago scary day when a dog jumped on her, Posey hasn't gotten over her lingering fear.
Dressed in a pink tutu and her magic veil, Princess Posey is determined to meet the next-door dog and face her worst fears. All by herself.
Today, 10 readers will have the chance to win their very own copy of PRINCESS POSEY AND THE NEXT DOOR DOG. All you have to do is email Stephanie HERE or contact her at stephanie dot greene dot books at gmail dot com. Please write "ReaderKidZ give-away" in the subject line and include the name of the person you'd like Stephanie to sign the book for in the body of the email, plus your mailing address. Happy Holidays!