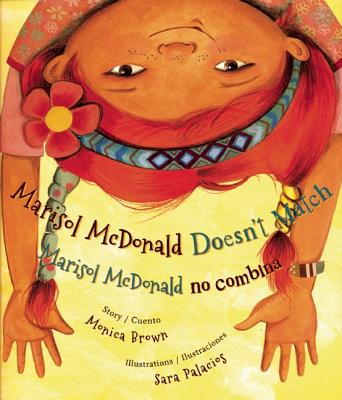 In this new picture book, MARISOL MCDONALD DOESN'T MATCH, Monica Brown shares invaluable lessons about being part of a bi-racial, bi-cultural and bi-ethnic family. Illustrations by Sara Palacios are bright, energetic and wonderfully different.  A bonus includes a brief interview with Monica. (Children's Book Press, 2011)
Marisol McDonald is teased about being different – sometimes it is because of her fire-red hair and freckles.  Sometimes she is teased because she prefers playing pirates to soccer. Mostly she is teased about "nothing matches."  This book in pictures and words is as high-spirited as Marisol and a wonderful inspiration for celebrating being different and being proud of it.  Every kid gets teased. Readers will enjoy Marisol's creative approach to being herself.
1. Monica, why did you write Marisol McDonald – what was the inspiration?
I was inspired by my very own life and that of my daughters.  I am the daughter of a South American mother and a North American father and my mother always told me that I was a "citizen of the world."  I grew up bilingual, bicultural, and multiracial.  Some experiences were funny–for example, someone once asked me if I spoke "Peruish."  Others were less so–the neighborhood children made fun of my mother's accent and my name when she called me to come home: "Moniquita!"
2.  What do you hope a reader will "learn?"
It's never a good idea for a writer to have a "lesson" in mind before they start to write, but in retrospect I hope that this book, this character, will speak to all those little girls and boys who don't quite conform to social norms.  Maybe they are a little too loud (or too quiet) or too dramatic or too "different."  I hope they will find humor and inspiration in Marisol's uniqueness and spirit and understand that there are different ways to cope with teasing.
3.  From you own and your children's experiences, what are some of the gifts of being a bi-cultural family?  What are some of the challenges?
The gifts are many.  My children have grown up with an appreciation of many cultures, not notions of "us" and "them."  They have an inclusive view of others and healthy respect for difference.  
In terms of challenges, there are occasionally those who are hurtful in their ignorance.  As the daughter of a Latina immigrant, I can say that the rhetoric around immigration can be especially hateful in Arizona as can discussions promoting "English only."  I teach my children that being bilingual is something to be celebrated, not denigrated. 
I am lucky enough to be a part of a large, extended Latino, Jewish, and European American family that is filled with love, passion, and many rich traditions.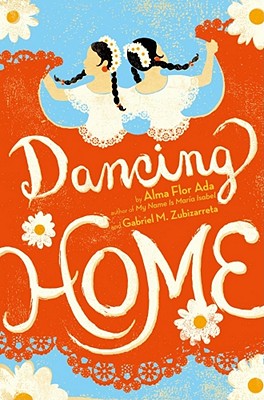 DANCING HOME by Alma Flor Ada written with her son, Gabriel M. Zubizarreth tells a honest story of sometimes it's hard not to feel embarrassed and even ashamed of one's relatives, especially when other kids tease and make fun. Marge (Margarita) has done everything to look, sound and be American.  Now her cousin arrives from across the border and Marge has to admit to being related. DANCING HOME describes Marge's struggle to accept her own heritage and Lupe's struggle to adjust to a strange – and often unfriendly – new world. (Simon and Schuster, 2011)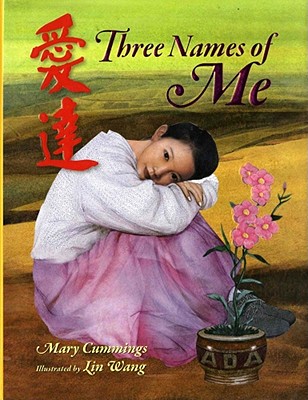 THREE NAMES OF ME by Mary Cummings with soft and lyrical illustrations by Lin Wang that capture the mood of this international adoption story.  Ada tells the story of her three names: her first name, a secret name, was given to her by her birth mother in China; her second was given to her by her caretakers at the orphanage; her third name, Ada, came from her adoptive parents.  Ada describes what is important to her about her now as well as her thoughts and questions about her adoptive history. This is a quiet book that is told in a child's voice in a manner appealing to young readers.  (Albert Whitman, 2006)