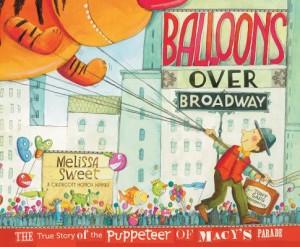 Welcome Author-In-Residence, Melissa Sweet!
This month, as we enter a season of holidays and celebrations, ReaderKidZ celebrates Family. At no time in our history have American families been more varied or culturally-diverse than they are today. All colors, all combinations, all coming together to forge strong connections that will help our children grow and thrive. One celebration that  has cut across boundaries for the past 85 years is the Thanksgiving Macy's Day Parade in New York City. This month, you'll meet Melissa Sweet and her wonderful new picture book Balloons Over Broadway, the story of the extraordinary birth and growth of the parade that's watched by more than fifty million people every year. Sweet, a Caldecott Honor Winner, tells the story of Tony Sarg ("rhymes with aargh"), a marionette maker who fell in love with puppets at the age of six. In a starred review, School Library Journal said, "Rich in detail, the gouache, collage, and mixed-media illustrations are a stand-out, capturing the charm of the period and the awesome-inspiring balloons. This one should float off the shelves."
Read "What's Your Story, Melissa Sweet?" HERE.
For more about Melissa, visit her website HERE.