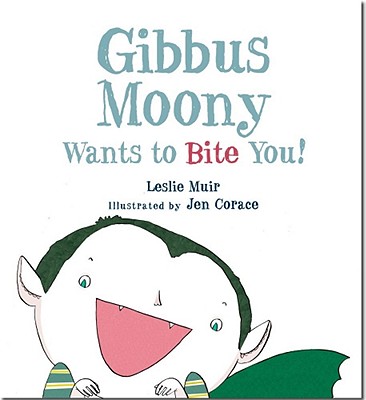 GIBBUS MOONY WANTS TO BITE YOU! by Leslie Muir, illustrated by Jen Corace
Vampires have been all the rage since Twilight hit the scene and, over the last few years, there have been a number of picture books that have tried to ride that wave. None have quite hit the spot for me until GIBBUS MOONY came along.
Gibb's baby fangs have fallen out and he's feeling like a BIG vampire – ready to bite something! Mom says, "We only bite one thing in this family, young man." Grandpa adds, "We're fruit suckers, my boy… and proud of it." But Gibb's bite has no bite and it takes meeting his new neighbor and regular boy, Moe, for him to figure out that biting's for babies and "Upside-down apples are totally toothsome."
A few humorous nods to Twilight and other vampire lore make this a fun Halloween read for both parents and kids.