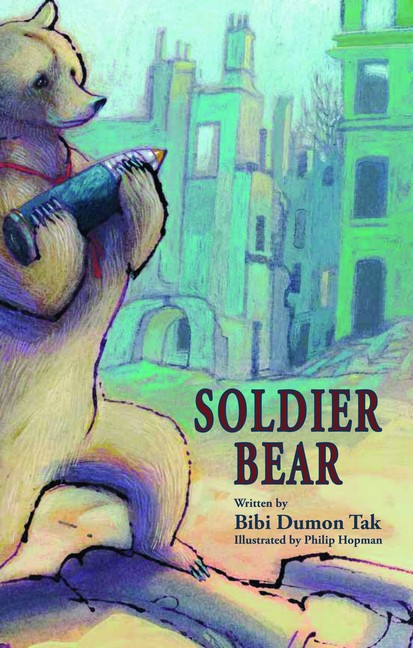 These books speak to the powerful friendships that can happen between amazing animals and amazing people.
SOLDIER BEAR written by Bibi Dumon Tak was translated from the Dutch by Laura Watkinson this year.  Simple but fanciful illustrations were created by Philip Hopman.
What an incredible and (mostly) true bear story!  During WW II when Germany invaded Poland, two soldiers escaped, heading toward Iran. They then joined the British army to fight against the Nazis as spies. On the way, the  soldiers met a boy carrying a bear cub in a bag.  A trade was made: a sack of food for a bag of bear. The new owner, Peter, nourished the starving cub back to health.  Soldier Bear and Peter become inseparable friends. Together, they saved lives and uncovered secret military information.
The book includes photographs of Soldier Bear and Peter and other soldiers from the troop. A page-turning, heart-warming story.
Another look at a special friendship is presented in HALF BROTHER by Kenneth Oppel.  This book won two top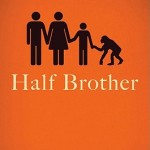 Canadian Library Association awards in 2011:  Book of the Year for Children and for Young Adults. The story, for older readers, shows how strong, and sometimes confusing, a friendship can develop between a boy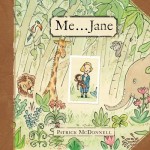 and a chimp.  The ethics of animal testing is a second theme and will inspire much thought and discussion.
ME…JANE by Patrick McDonnell, presents to the youngest of readers the power of one child's curiosity.  Jane Goodall loved her "pet" stuffed monkey, was fascinated by animals, and wanted to learn and do more, including discovering how eggs came out of chickens. She traveled to Africa, set up camp with the gorillas, and began many years of careful study, forming deep friendships. This picture book in a simple format shows the very beginnings of Goodall's passion and persistence.