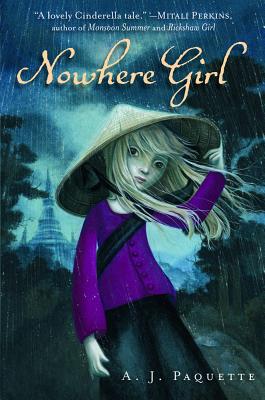 Paquette's Nowhere Girl compliments this month's ReaderKidZ theme of accepting differences perfectly – for in her differences, the protagonist discovers her strength. This is a story about a young girl's tenacious, heart-wrenching  journey across the globe to find a place of belonging for herself and exoneration of her deceased mother's integrity.
Protagonist Luchi Ann is born in Thailand's Khon Mueang Women's Prison. Her culturally diverse childhood was remarkably full of love, nurturing, and happiness. For thirteen years, she and her American mother shared a cell with two other women – Taiwanese  Bibi  and Jeanne of French descent.  Sadly, after her mother's tragic death, Luchi Ann is forced to leave the only family she's  known to embark upon a incredible quest to find her unknown grandmother in the United States. Luchi's perilous journey, from Bangkok to Boston, is laced with heartache, deception, and the revelation of dark family secrets.
Then I know I have cried enough. I don't want my tears to block my view of what's ahead. I am terrified, but I am determined…I must go forward.
– From Nowhere Girl