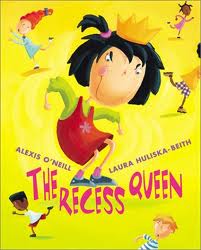 In regards to THE RECESS QUEEN, the Canadian Teacher Magazine states, "Meeting new people, establishing friendships, and settling into new routines is a big part of the first few weeks in an elementary school. Classes traditionally spend time developing social skills, building relationships and a spirit of co-operation amongst the children. Establishing expectations for playground behaviour and discussing bullying behaviour is one of the first items for classroom discussions. Our staff thought that THE RECESS QUEEN by Alexis O'Neill and Laura Huliska-Beith would be an ideal book for a school-wide literacy project for our school start-up in September."
We at ReaderKidZ couldn't agree more! The magazine delights in this wonderful book so much that they have created a School-Wide Literacy Event featuring Mean Jean and the rest of the crew.  Click HERE to read all about it.
To further compliment the reading of The Recess Queen experience click HERE to access a Reading Guide created by Jennifer Elsebaie of Chicago's Hawthorne Scholastic Academy, HERE for a word scramble activity and HERE to access a RECESS QUEEN book trailer. With this great book and all of these supplemental lessons, bullying on the school grounds may become a thing of the past. Wouldn't that be wonderful?