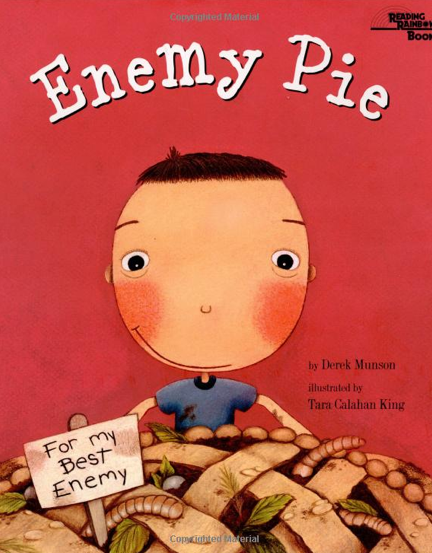 Bake a pie especially for an enemy? Think of the most ridiculously gruesome ingredients and then throw them in a pan? Oh, how deviously delicious!
Derek Munson's masterful ENEMY PIE serves as a tasty tease to lure kids into the joy of reading. On his website is a lengthy list of lesson plans devised for Friends and Enemies, Writing Lessons, directions to make his delectable Enemy Pie, lesson plans for young authors, and creativity resources. Click HERE to discover and to enjoy.
In addition Kieth Schoch's Teach With Picture Books site is brimming over with language arts, math extensions, science, social studies, and interactive teaching tools activities designed to enhance the ENEMY PIE reading experience.
And lastly, to plan for an ENEMY PIE School Event, download  a .pdf spelling out all the necessary details necessary to pull it off HERE.  Learn how to create character, develop plot, and understand various literary elements by focusing on the child's interest first and then help them to build finger-licking gross stories from there.