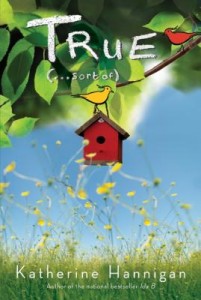 We hope you enjoy reading Author-In-Residence, Katherine Hannigan's newest book: True . . . Sort Of.
Greenwillow Books is giving away ten copies! Please email GWBooks@harpercollins.com for a chance to win! Include "True (sort of) GIVEAWAY.READERKIDZ" in the subject line.

Read more about TRUE (…sort of) HERE.  For more about author, Katherine Hannigan, read "What's Your Story?" HERE.  Enjoy a letter from Katherine to her readers HERE.