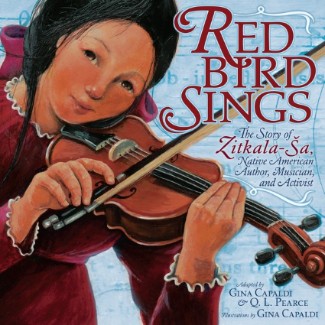 RED BIRD SINGS:  The Story of Zitkala-Sa, Native American Author, Musician, and Activist  Adapted by Gina Capaldi & Q.L. Pearce, illustrations by Gina Capaldi
Imagine being eight years old and leaving home.  Not running away, but leaving in order to learn to read and write.
Zitkala-Sa, little Red Bird, left the Yankton Sioux reservation in South Dakota, climbed aboard a roaring steam-engine train, and headed East to the "Land of Red Apples," Indiana.  She arrived at the boarding school for Native children where she was handed a scrub brush.  Her long black hair was chopped off and her soft moccasins were exchanged for hard-soled shoes. This Red Bird did not quit; she learned to scour floors and then she entered a classroom, for the first time, and learned to read.
Imagine performing a violin performance while some of the audience waved a giant white banner with the word: SQUAW.  Imagine giving speeches to thousands asking for the rights of your people. Imagine meeting with the president of the United States to discuss treaties.  Zitkala-Sa's story helps us imagine the fear and the choice to continue with courage.
As an adult Zitkala-Sa worked as an activist for Native American rights.  She sang, spoke, and wrote to build bridges of tolerance and understanding between cultures.
This picture-book biography is exceptional, as was Zitkala-Sa. Her singing spirit and courage is shown through her own words, songs, and Capaldi's engaging illustrations.  Sitkala-Sa's story helps us all to imagine how difficult it is to face intolerance and be a stranger in a "white world."
History books describe only a few of the many Native Americans who were true leaders.  It is time to introduce many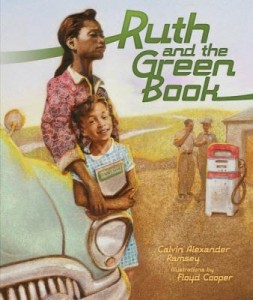 more.
Another aspect of being different is gently and realistically presented in RUTH AND THE GREEN BOOK by Calvin Alexander Ramsey, illustrations by Floyd Cooper
This picture book is about a family road trip in their new fancy car. What could be more exciting?  Eating at cafés and roadside restaurants…sleeping at motels with swimming pools…stopping at a souvenir stand or a drive-in for a root beer float.
But because you are Black, motel doors are slammed shut.  Gas stations refuse service. You aren't allowed to use the restrooms and have to pee in the woods.
Intolerance and discrimination are frustrating and even frightening.  This book shows, from a child's point of view, the fear and humiliation created by discrimination.
FLOYD COOPER is the illustrator of this book and many other award-winning books.  His art and his words as an author open windows that show life from the emotional perspective of a child.
When asked about drawing and what advice he would give to students, he answered:
From the time I drew on our house as a three year old child, I have had a proclivity to expressing myself through art. I went to the University of Oklahoma and graduated with a BFA on an art scholarship (partly). I started freelancing as an illustrator while still an undergrad at OU. My advice for young illustrators is based on my own experience: READ and DRAW!      Keep your imagination saturated and stimulated  through story. Keep drawing.                     
Hope this helps!
Best, Floyd

Floyd Cooper's images celebrate being a kid and facing barriers – social, political, or educational – with courage and determination.  His art shows intolerance in ways that are meaningful to young readers.
One of Floyd Cooper's most recent books, BEN AND THE EMANCIPATION PROCLAMATION, written by Pat Sherman, 2009, was awarded this year's Once Upon a World Children's Book Award, given by the Simon Wiesenthal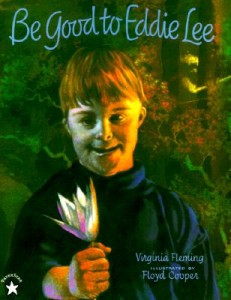 Center, Museum of Tolerance.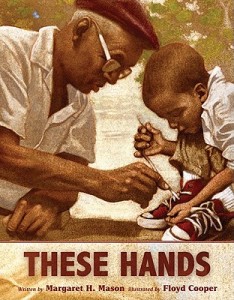 BE GOOD TO EDDIE LEE, written by Virgina Fleming and illustrated by Cooper tells the story of Eddie Lee, a boy with Down Syndrome, and how hard it sometimes is to be accepted for who you are.
Another recent book illustrated by Cooper, THESE HANDS, by Margaret Mason, shows by means of a grandfather's funny tales, a very different perspective of discrimination in the industrial Midwest.