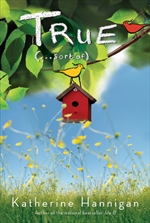 Click HERE to enjoy a video in which author Katherine Hannigan talks about crafting characters that she cares about. Endearing characters rich with complexity, creativity, and heart. She describes them as owning distinctive troublesome traits and unique gifts that ultimately save the day.
For example, Hannigan's protagonist Delly devises her own language of solidarity – words that describe emotions and events in a clue-like, personal way. Words such as mysturiosity, hideawaysis, and surpresent not only demonstrate an aspect of the character's creative mind, they also celebrate the author's ability to create unforgettably dynamic characters.
To access a discussion guide for True: (…Sort Of) click HERE. Use it to come to understand a protagonist who says "…something mad to stop the sad" and the brilliant author who conceived  her.