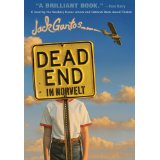 DEAD END IN NORVELT  By Jack Gantos
The summer Jack turns twelve in Norvelt, PA, he's grounded for unintentionally firing his dad's WWII rifle, but allowed to help Miss Walker, the town historian, type up her obituaries for the paper. Mom's saving to get Jack's bloody nose cauterized, and Dad's building a bomb shelter.
When angry Hell's Angels show up, and Norvelt's oldest original residents start dropping like flies, Jack is swept up in a small town's madcap demise.  1950's historical, laugh-out-loud, vintage Gantos for 9-13 year-olds.
Enjoy an audio clip from the audio book, read by the author, Jack Gantos, HERE.  (Audio can also be accessed via the link below!)
Read more about the book and author Jack Gantos, including a biography, book trailer, and excerpt of the text, HERE.