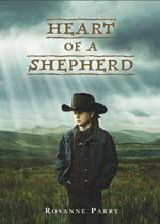 Included as a part of Rosanne Parry's website is a trailer promoting her incredible Heart of a Shepherd. The trailer ends with a poignant question: "Have you ever made a promise you couldn't keep?"
Have you? Have you ever vowed to take on a task that was well beyond your capability to complete?  Have family members depended upon your promise for their well-being?
To investigate this heady notion of accountability, as well as other story elements, access the "Book Resources" Rosanne has included on her website HERE. You'll find a link describing her inspiration for the story, a leveled discussion guide with questions appropriate for 3rd to 5th grade students,  discussion ideas for parent and child book clubs, as well as a podcast interview, and even Brother's Killer Hot Chocolate Recipe. Delicious!