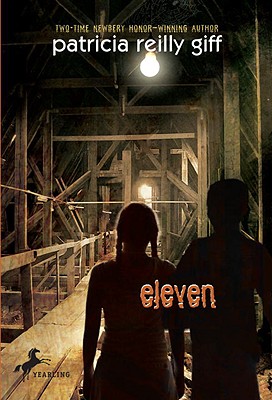 Working Together can mean different things to different people, but at the heart – and why we've chosen this theme for our Back-to-School posts – it's really about the myriad ways people come together to sustain and strengthen bonds of friendship and family. And isn't starting a new school year all about learning how to work with a new group of classmates, a new teacher, and new routines?
So while some of our picks might not be the kind a teacher, librarian, or home-schooling parent would choose to open up the school year, each of these books has much to offer and we hope you'll enjoy searching them out and adding them to your list of excellent books for any time of year.
ELEVEN by Patricia Reilly Giff
On the eve of his eleventh birthday, while searching for the spot where grandfather Mack has hidden his gifts, Sam stumbles across a mystery in the attic – a newspaper clipping with a picture of a much younger Sam and a caption that reads "Missing."  It makes no sense at all. Still, something about the picture brings up a feeling and Sam knows he can't dismiss it. Not now. But with his reading problems, he'll never be able decipher the clipping on his own. How will he discover the truth? Is Mack really his grandfather? And why is he afraid of the number eleven?
The next day, Sam's teacher pairs him with Caroline, the new girl, for a class project on the Middle Ages. Caroline is just independent enough and enough of a loner that Sam immediately realizes she's the perfect one to help him read the note in the attic and solve the mystery of his past. Together, they do just that, and a whole lot more.
HEART OF A SHEPHERD by Rosanne Parry
Dad is shipping off with the entire 87th Transportation Battalion to Iraq. They'll be gone for fourteen months and, with his siblings away at school, that means Ignatius, nicknamed Brother, and his grandparents will manage the cattle ranch by themselves. Brother's helped on the ranch his entire life, but that doesn't mean he feels ready for the challenges ahead: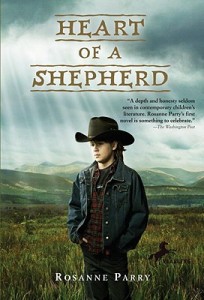 Usually, when I look out the back porch, I see willows hanging over the creek and red-tail hawks riding the thermals. Today, I see the pasture gate that needs a new hinge, and the south side of the barn that needs paint, and the hayfield that needs mowing, and the tractor that needs a timing belt.
In spite of the difficulties that are sure to cross his path, Brother makes a promise to keep things running smoothly until his father's return. Working alongside his grandparents and others in their close-knit community, Brother learns a lot about himself, eventually finding his true calling.
ANDY SHANE and the QUEEN OF EGYPT by Jennifer Richard Jacobson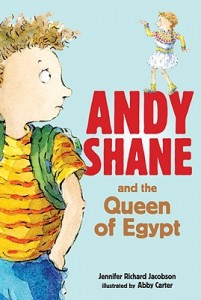 Andy Shane's class has been assigned the continent of Africa for their Culture Fair reports. Andy wants his report to be about Egypt. Granny Web has given him a scarab necklace and he intends to use it in his presentation. But the day his teacher asks everyone to choose a country, Dolores Starbuckle butts in. She wants to do her report on Egypt, and has even come to school dressed like an Egyptian queen. Andy doesn't feel like giving Dolores her way, but in the end, they work together and make a very good team.
A SICK DAY FOR AMOS McGEE by Philip C. Stead, illustrated b Erin E. Stead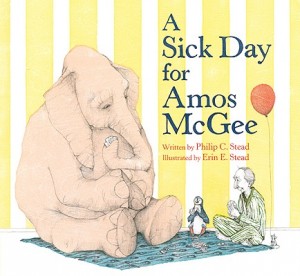 This Caldecott-winning book about close friendships and the dedication zookeeper Amos McGee shares with the animals in his care, is reminiscent of another book about the relationship between keeper and animals, GOOD NIGHT, GORILLA, by Peggy Rathmann.
Even though Amos has lots to do at the zoo, he always finds time to spend with his animal friends. When Amos falls ill, the animals hop on the bus and work together to return Amos's kindness, bringing him some of the same joy he's always shared with them.
Enjoy a lesson created by the LITERACYHEAD team to use with this book HERE.
STICHIN' AND PULLIN': A Gee's Bend Quilt by Patricia C. McKissack, illustrated by Cozbi A. Cabrera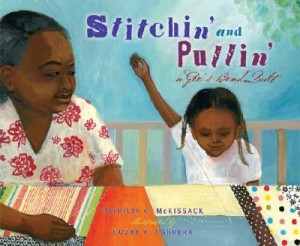 Gee's Bend is a small rural community in Alabama that has continued to honor the quilt-making traditions of their ancestors. Poems, written in free verse, tell the story of Baby Girl as she grows and learns, not only to piece her own quilt, but to honor the old ways, puzzle the pieces to tell a story, and "stitch and pull" to create a legacy of art that has endured for generations.