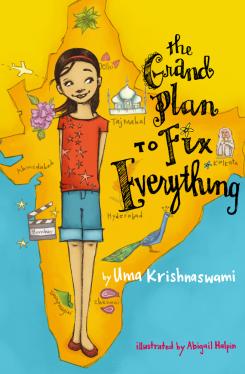 Among many of the instructional and insightful activities such as writing fan letters, dancing Bollywood steps, and baking yummy curry puffs described in The Grand Plan to Fix Everything Activity Kit, young readers are asked to consider the statement "How I Want to Change the World." Like Dini, readers are encouraged to think about the world as it is and how it can be changed for the better. What sorts of things in the world need fixing? Friendships? Family issues? Universal issues?
Mahatma Ghandi once said, "You must be the change you want to see in the world."  For example, if you think the world needs more joy in it, then be joyful yourself. Think the world needs peace? You become the peaceful spirit so badly needed.  Do you think Ghandi's words represent the actual grand plan to fix everything? Maybe so. It wouldn't hurt to try.  Dini did.
Also, to fully enjoy the cultural flavor of The Grand Plan to Fix Everything, peruse through a link featuring stunningly colorful saris by clicking HERE. And to learn basic Bollywood dance steps click HERE. Enjoy!
Don't miss Uma's Author-In-Residence pages! Click HERE to get started.
To read more about Uma, visit her website HERE.