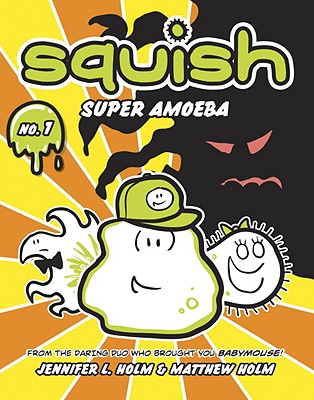 Humorous books for emerging readers are sometimes hard to find, but just in time for summer, ReaderKidZ has tracked down a few favorite picks –  a new graphic novel series, a brand-new early chapter mystery, and a collection of poems from the father of nonsense poetry, Edward Lear.
BABYMOUSE: MAD SCIENTIST (#14) by Jennifer L. Holm & Matthew Holm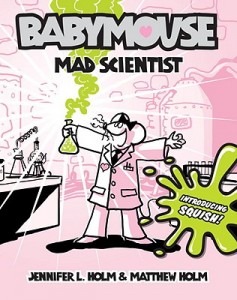 Fans of the BabyMouse series are in for a treat when BabyMouse turns Mad Scientist and brings home a friendly amoeba from her local pond. Squish and BabyMouse quickly become good friends. BabyMouse even feeds Squish cupcakes and enters him in her school science fair!
SQUISH, SUPER AMOEBA (# 1), the first in another new series by the creators of BabyMouse, dares to delve into the microscopic world of pond and protozoa and introduces readers to Squish – a want-to-be superhero, Pod – his best friend, and Peggy – the happy-all-the-time, cute-but-super-clueless paramecium.
These characters are just getting started, but there's no doubt their popularity will grow by leaps and bounds! Look for more "amazing, action-packed adventure" in SQUISH (Book 2) : Brave New Pond, due to be released in September.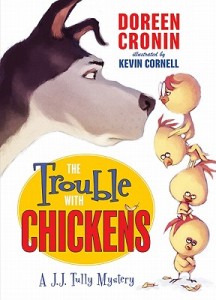 THE TROUBLE WITH CHICKENS by Doreen Cronin, illustrated by Kevin Cornell
When J.J. Tully, formerly a rescue dog with a long, impressive history, finds himself living the quiet, country life in the backyard of his trainer, Barb, he can't quite believe this is his reward for years of devoted service. But then a crazy chicken named Millicent – Moosh, for short –  introduces herself to J.J., along with her two puffy chicks, Little Boo and Peep, and a new hilarious and surprising adventure ensues.
Kids will love J.J., his dry sense of humor, and the clever twist at story's end. They, and we, will be anxiously awaiting more J.J. Tulley mysteries.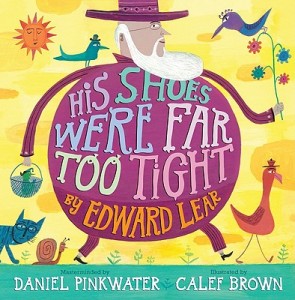 HIS SHOES WERE FAR TOO TIGHT by Edward Lear. Masterminded by Daniel Pinkwater, illustrated by Calef Brown.
As Pinkwater explains in the introduction to this book, "When Edward Lear was small, books for kids usually told how if you were not a "good child" – quiet, obedient, and hard-working – you would stave to death or be eaten by wild wolves."  But Lear was different. He could see the funny side of things, the nonsensical, silly, the ridiculous. He loved to write nonsense poems, and these, along with Calef Brown's imaginative illustrations, will delight readers of all ages.
Listen to Daniel Pinkwater read several of the poems from this book, including "The Owl and the Pussycat" HERE.