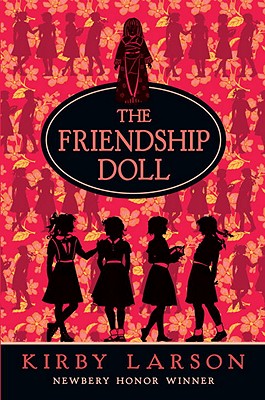 While last week's Pack a Book for Summer! selections were on the lighter side, this week's books tend to go deeper into the relationships and emotions of family and friends. It's another eclectic list. Mostly novels, this time. All, but one, new books published in the last two months.
THE FRIENDSHIP DOLL by Kirby Larson
One doll. A journey that spans more than 80 years over two continents. And four girls, each with her own, unique story.
Larson introduces readers to Miss Kanagawa, one of "fifty-eight Japanese dolls sent as messengers from the children of Japan to the children of the United States."
The story, with roots based in historical events, is a moving work of fiction that follows a "friendship doll" from her arrival on a wintry day in New York City in January 1928, to present day Seattle. Miss Kanagawa narrates small portions of her travels over the years, and while it's true, she's only a doll, her impact is felt by those children and adults who cross her path.
As Miss Kanagawa makes her way from one side of the country to the other, her mission as an ambassador of friendship grows, as does her own doll-sized heart. Indeed, each encounter changes, not only the child whose eyes meet Miss Kanagawa's, but Miss Kanagawa herself, who even at story's end declares: "I may be showing signs of age – my kimono frayed, my joints stiff, my gofun face  cracking – but … I will be faithful to the task for which I was created…"
A story of love, loss, and friendship, this book, full of heart, will be enjoyed by many, including those, like myself, who never played much, nor cared about dolls.
An author's note provides more information about the story's inspiration, including notes about the ways in which the four girls' stories depart from factual events.
Read more about another of Kirby Larson's books (The Fences Between Us ) HERE.
PASSING THE MUSIC DOWN by Sarah Sullivan, illustrated by Barry Root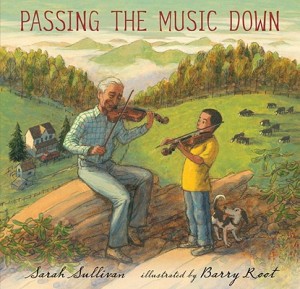 Inspired by the true story of Melvin Wine and Jake Krack, PASSING THE MUSIC DOWN, is a lyrical telling of the relationship that developed between two celebrated musicians and "old-time fiddlers" of Appalachian music. The fact that these two fiddlers shared an age difference of seventy-five years makes this story all the more remarkable!
With beautiful language, reminiscent of the cadences and voices of region, Sullivan introduces readers to the beauty and wonder of these two lives "stitched together in a quilt of old-time tunes. Passing the music down."
Resources, including a list of videos and websites, are found in an author's note at the end.
Read more about another picture book by Sarah Sullivan, Once Upon a Baby Brother, HERE.
SMALL AS AN ELEPHANT by Jennifer Richard Jacobson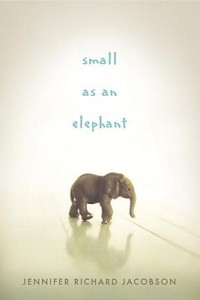 Eleven-year-old Jack has a secret.  He and his mom, on one last summer get-away before the new school year begins, have stopped to spend the night in a campsite on Mount Desert Island, Maine. Jack sleeps in his pup tent, his mom, in a separate tent next to his. When Jack awakes the next morning, his mom is gone. Her tent. The car. Everything.
Jack's certain she'll return soon enough and he has no reason for alarm. But the hours click by, and Jacks realizes that in spite of the many miles and hours away from his home in Massachusetts, his worst fears have been realized and he's going to have to take matters into his own hands.
To my mind, this is the most brilliantly written book for middle grade readers on the topic of mental illness that I've seen to date. It's edge-of-the-seat scary, and yet Jack never seems to be impossibly far away from the care of a kindly stranger or a resolution of some kind. It's not clear exactly how the story will resolve, but when it does, it's both realistic and satisfying. Highly recommended.
UMBRELLA SUMMER by Lisa Graff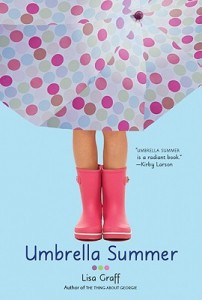 Annie Richards didn't always play things safe. She used to love the fluttery feeling of racing on her bike down Maple Hill, timing it just so, and squeezing the brakes just the right amount to land smack-dab in front of Lippy's Market without a single tire squeak.
That was before. Before she realized how much danger there was in her childish games. Before the accident. Before she knew better. Before Jared, her brother, was gone for good.
But then Mrs. Finch moves into the old haunted house across the street and slowly, slowly Annie and she learn how to close their umbrellas of sadness and move out into the blue and sunny skies of summer.