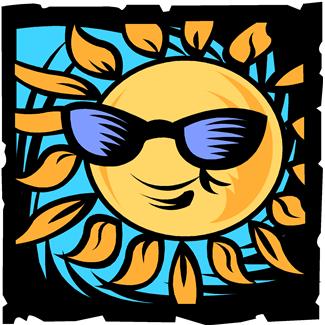 It may not seem like summer's just around the bend, but, for many, the end of the school year is weeks away. While in my part of the country there hasn't been a lot of sun cluing us in to summer's imminent arrival, the anticipation *is* building.
Summer is, by far, my favorite time of year. I love the heat, the lazy days, the time to catch up on reading that hadn't been possible during the school year. It goes without saying that most kids love this break from school, as much as I do.
Families are just now beginning to think about packing up and heading out to enjoy short weekend get-aways, backyard camp outs, and day trips to the beach. All manner of vacation-time excursions have already been planned and all that remains is the last day of school to make it official!
This is also the time of year when families, not packing for vacation, are gearing up for packing of a different sort. A move to a new home, in a new town or state, near or far away.
Whatever your summer plans, or whether your summer includes suitcases or boxes, be sure to fill up some of those sunny days with a collection of good books.
CLARA LEE and the APPLE PIE DREAM by Jenny Han, pictures by Julia Kuo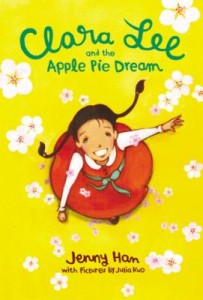 Third grader, Clara Lee, wants nothing more than to be this year's Little Miss Apple Pie at the Apple Blossom Festival. If she won, Clara Lee knew just what she'd wear on the float the day of the big Festival – the Korean style skirt and jacket her Grandpa had given her. But in order to win the contest, Clara Lee would have to make a speech during a special assembly in front of the whole school. She'd be competing against fifth graders!
When her Korean grandpa tells her that "Good Luck" is in on its way, Clara Lee begins to believe that maybe *this* is the year to reach for her "Apple Pie Dream."
CLARA LEE and the APPLE PIE DREAM is a wonderful new book for those who love CLEMENTINE, IVY AND BEAN, and JUDY MOODY.
RIBBIT, RABBIT by Candace Ryan, illustrated by Mike Lowery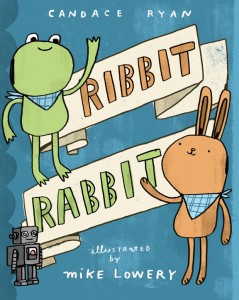 A top 10 pick on the Indie Bookseller's 2011 Spring List, RIBBIT RABBIT is a picture book about two best friends, Frog and Bunny. They swim – "Ribbit Rabbit. Dip it, Dab it." – and play – "Ribbit Rabbit. Zip it, Zap it." – and have good times. Sometimes, they even fight – "Ribbit Rabbit. Nip it, Nab it."  Eventually, they make up and remember why they're best friends – "Ribbit Rabbit. Rib-bot Rab-bot."
With fun wordplay and equally fun illustrations, this book can be paired with NOT A BOX, by Antoinette Portis. Add a collection of recyclables such as egg cartons, small boxes, ribbons, crayons, buttons, and assorted crafty items and look forward to hours of creative art and imaginative summer play.
BALLPARK MYSTERIES: #1 The Fenway Foul-Up and #2 The Pinstripe Ghost by David A. Kelly, illustrated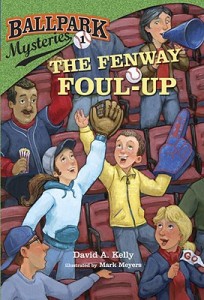 by Mark Meyers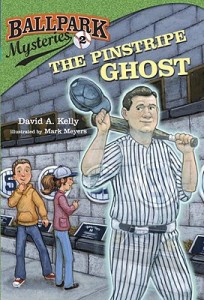 It's baseball season and what better books to hook young baseball fan/chapter book readers than this brand-new series that follows cousins, Mike and Kate, as they travel with Kate's mom, a sports reporter, to Fenway Park, Yankee Stadium and Dodger Stadium.
As they read, kids will enjoy not only trying to solve mysteries, such as the whereabouts of Boston Red Sox player, Big D's, stolen bat (Fenway Foul-up) or discovering the true story of the ghost of Yankee Stadium (The Pinstripe Ghost), but they'll also delight to find facts and folklore about each of the teams/stadiums woven into the narrative. Dugout notes are included at the back of each book.
For kids looking for more books with a baseball theme, check out ReaderKidZ post, Play Ball!
THE GREAT HAMSTER MASSACRE by Katie Davies, illustrated by Hannah Shaw
Anna and her brother want a pet. Of course, their mom says no. But Anna is not one to be easily deterred. As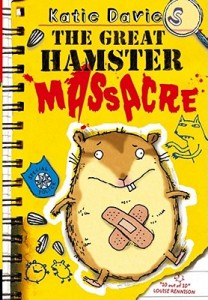 she explains it, "A lot of times, when someone tells you a reason why you can't have something, the reason isn't really true…Other times, … the reason might be true, but it still might not be the real reason why they don't want you to have it."
Two Russian Dwarf hamsters, exactly what Anna's been longing for, eventually make their way to Anna's house, where she sets them up with an old fish tank, instead of a cage, and a wheel, and some tissue paper for a nest. When tragedy strikes, Anna and Tom launch a full-scale investigation, complete with notepad, magnifying glass, police badge, dictaphone, and a list of 8 suspects.
Part-diary, part-mystery, and very funny, this is a book for kids who enjoy humor with a slightly twisted bent.  Anna's voice is fresh and solidly middle-grade, and the characters are quirky, and "British." As such, some of the humor and nuances of the characters and situations may not be entirely appreciated by some readers.
All-in-all, it's a fun book and, with several more due to be published in this series, I expect it will gain a loyal following of readers, anxious to discover Anna's next escapade.