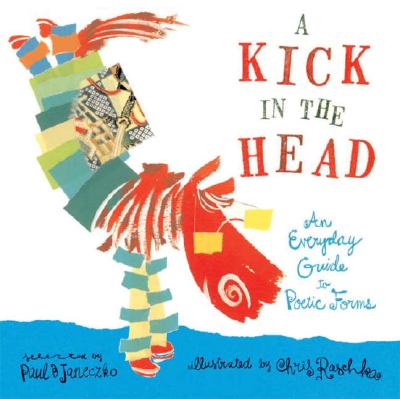 Does the thought of teaching poetry cause you to tremble? Does the iambic pentameter make you ill? And, yet you must gather up your gumption and teach it? Yikes!
We at ReaderKidZ desire to remind you that kids are natural poets. They love writing and reading poems, especially if there are elements of childlike humor resonating between the lines. A Kick in the Head: An Everyday Guide to Poetic Forms is just the sort of book that teaches and tickles at the same time. The poetry forms selected by Paul Janeczko range from the acrostic to the villanelle and everything in between.  Chris Raschka's collage-like illustrations perfectly contribute to the joyful liveliness of each delightful poem.
A bonus aspect of this book is the brief descriptions of each poetic form. Here, Janeczko continues with his tongue-in-cheek style  humor while clarifying the literary elements required to write each type of poem. For example, he describes the senryu as a haiku with attitude and explains that the double dactyl is not some sort of two-headed dinosaur.
Let Janesczko and Raschka add their own enthusiasm to your poetry unit!  From the silly to the sublime, A Kick in the Head: An Everyday Guide to Poetic Forms is a teacher's treasure.