ROOTS AND BLUES, A CELEBRATION by Arnold Adoff, paintings by R. Gregory Christie
Arnold Adoff, an American scholar of Black America blues and poets, sings words, taps out images, stumps and fiddles with ideas.   His new book of poetry is one to read and re-read:
Each Word A Hammer Hit. Each Word The Solid Tip
of finger hitting squarely on to the center of the ivory
yellow piano key. Each manner to each steel wire hit
makes tone  makes sound   and resonates:   rings like rocks
hitting calm water. C i r c l e s  of sounds   reach   out
like    circles    of words:    flow stories out from the shore."
Find more about ROOTS AND BLUES HERE.

IN THE LAND OF WORDS collected by Eloise Greenfield and illustrated by Jan Spivey Gilchrist.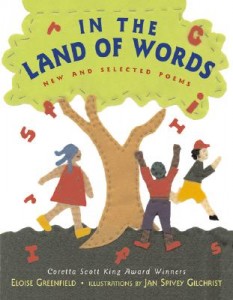 This nearly-classic collection is too good, too fun, not to mention.  Take a bee-bopping stroll under a canopy of poem trees just loaded with words, alliterating and spinning, even rap-rap-rapping.  The illustrations made of sewn-fabric collages are a delight to the eye.  The poetry stirs up toe-tapping images full of dreams, wishes (even of fishin') and "just imagine!" what a poem can be.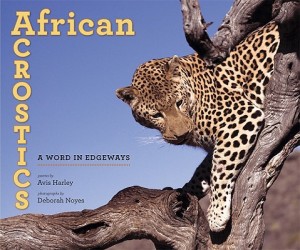 AFRICAN ACROSTICS: A WORD IN EDGEWAYS by Avis Harley with photographs by Deborah Noyes
This collection offers a variety of verses that provide information in rhythm and rhyme.  Deborah Noyes's photographs will make you sit down and look again.  Have you ever had an ostrich stare you in the eye and give fatherly advice in verse?  Open this book and select any poem for a read-aloud. You'll smile while you learn something new and surprising. Additional information about these African beasts is tucked in the back of the book.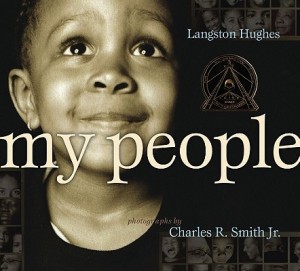 MY PEOPLE by Langston Hughes with photographs by Charles R. Smith Jr.
Thirty-three words. That's the entire poem and book.  Photographs of faces capture the grit of the human heart – courage, delight, curiosity, pain and pleasure. Charles Smith states, "This book is a study in simplicity."  It's for all people of all ages to savor slowly, like a cool refreshing, drink on a hot summer afternoon.
THE TREE THAT TIME BUILT, A CELEBRATION OF NATURE, SCIENCE, AND IMAGINATION selected by Mary Ann Hoberman (US Children's Poet Laureate) and Linda Winston, illustrated by Barbara Fortin. (Includes an audio CD with many poems read by the author.)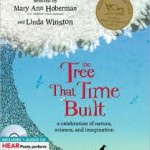 This collection celebrates nature.  The poems articulate the ideas of Darwin, echo the plea to "hurt no living thing" and encourage each reader to observe, ask, and wonder about both what is known and not known. Imagine reading side-by-side first a poem by D. H. Lawrence's "Hummingbird" and then Rachel Field's "Something Told the Wild Geese."  This carefully selected collection offers poems that will delight, send shivers down the spines of the readers, and make them laugh out loud.