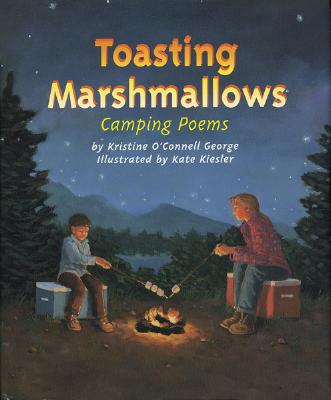 If you've already browsed Kristine O'Connell George's site HERE, you know she's the author of many poetry collections as well as several picture book length poems for the very young. You also know she has many truly wonderful resources for teachers, librarians, parents, and writers – anyone who loves reading, writing, and sharing poetry.
Be sure to check out each and every link on Kristine's site, as well as pick up your own copies of all of Kristine's wonderful books!
In the meantime, I've included a few here:
TOASTING MARSHMALLOWS: Camping Poems by Kristine O'Connell George, illustrated by Kate Kiesler
Most kids have some experience with camping of one sort or another. Be it outdoor camping with a tent and a few rugged supplies, indoor "camping" in the family room, backyard camping, or "roughing it" in an RV. Kids love tents, the outdoors, and the adventure inherent in all versions of camping out.
Here's a peek at a few of the poems students love:
"Breakfast" about a chipmunk "who does not dine, /does not idle, /does not linger, /has no time…"
"Toasting Marshmallows" about the different ways to roast a marshmallow "oh-so-slowly" or the brother who "grabs 'em with grubby hand/shoves 'em on the stick/burns 'em to a crisp/…" and
"Two voices in a Tent at Night"  – a poem I'm asked to read over and over for the tension and the familiarity that comes with "noises in the night" moments.
LITTLE DOG POEMS by Kristine O'Connell George, illustrated by June Otani
Each little poem is a gem. Almost Haiku, "small-poem-like" in the manner of Valerie Worth. Only a line or two, each poem captures a very particular and recognizable moment. You don't have to be a dog owner to love and appreciate every single one of these poems!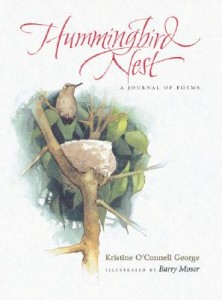 HUMMINGBIRD NEST: A Journal of Poems by Kristine O'Connell George, illustrated by Barry Moser
Each time I read through this book of poems, I marvel at its brilliance. Read a bit of the opening poem, "Visitor," and you'll know what I mean: "A spark, a glint,/ a glimpse/ of pixie tidbit/…/wings, zings, and whirr – / I just heard/a humming of bird."
The sound of those words, the quick, short syllables. It's masterful, isn't it?
Each poem follows the arrival of a mother hummingbird as she makes her nest. The poems are inspired by a journal Kristine kept while watching these events unfold on her own porch. It's a wonderful journal of poems with gorgeous illustrations by Barry Moser. You won't want to miss this book.
More books of poetry for K-5 readers:
THE GREAT FROG RACE and Other Poems by Kristine O'Connell George, illustrated by Kate Kiesler
LITTLE DOG AND DUNCAN by Kristine O'Connell George, illustrated by June Otani
FOLD ME A POEM by Kristine O'Connell George, illustrated by Lauren Stringer