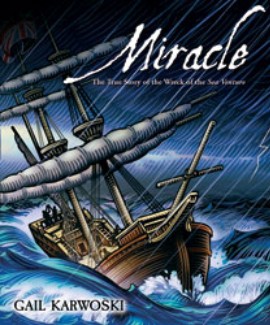 Two intriguing and satisfying tastes in nonfiction are books that present culture and – very different – an "arm-chair" experience of natural disasters, past and current.
MIRACLE: The True Story of the Wreck of the Sea Venture by Gail Karwoski. Readers may feel a bit seasick while reading about the storm that almost sunk the nine ships sailing from Plymouth, England, on June 2, 1609 to Jamestown, Virginia. The book is packed with information, sketches, diagrams, and maps. The author tells of the adventure she had researching the Sea Venture when she traveled to Bermuda with her daughters and – like the Venture's tale – discovered dark alleys, sunny roads, and scary, high-speed "chases."  A great read for young and old!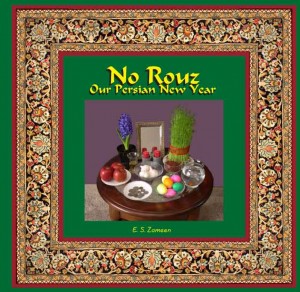 A very different experience is NO ROUZ: Our Persian New Year by E.S. Zameen.  This book presents a lyrical and visual celebration for readers and shares with them the importance of the Persian New Year for the Iranian people.  Soheyla, six years old, invites the reader to join her Iranian-American family as they prepare for and celebrate No Rouz.
Natural History:  Birds, "Beds," and Dragons.  Sometimes the most mysterious and amazing stories are the true ones, the ones about the creatures we see – or would like to see – everyday.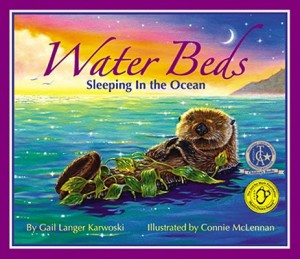 WATER BEDS: Sleeping in the Ocean, a very different nonfiction book by Gail Karwoski, illustrated by Connie McLennan is a bedtime story about how marine mammals sleep in the ocean without drowning. The first tough question Gail had to explore was – what is sleep? And how do scientists study the brain waves of "a blue whale that is bigger than a bus and lives in the deepest ocean and is never kept in captivity?"  Amazing, sometimes quiet, information is what makes this nonfiction presentation a delight.
WHAT BLUEBIRDS DO by Pamela F. Kirby is an award-winning visual delight.  Photographs by the author bring the reader right into the home and family of some very busy bluebirds.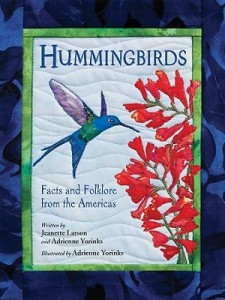 HUMMINGBIRDS: Facts and Folklore from the Americas by Jeanette Larson and Adrienne Yorinks, illustrated by Adrienne Yorinks. This unique book offers a mixture of facts and stitches.  The "illustration quilts" are true works of art, a combination of needlework embroidery and free form quilting that motivates one to examine the pictures through a magnifying glass – such creative talent! And the legends are priceless.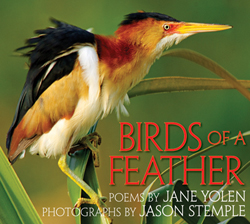 AN EGRET'S DAY and BIRDS OF A FEATHER by Jane Yolen with photographs by her son, Jason Stemple, are two books that present images and poetry about birds.
Maybe real dragons or their cousins, frogs, toads, or salamanders interest you.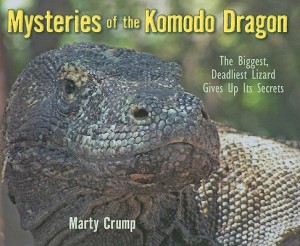 MYSTERIES OF THE KOMODO DRAGON: The Biggest, Deadliest Lizard Gives Up Its Secrets by Marty Crump describes scientists' detective "hunt" to find, observe, and study the Komodo Dragons that still exist. Imagine crawling through itchy scratchy grass looking for a dragon that is following you!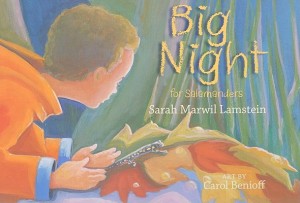 BIG NIGHT FOR SALAMANDERS by Sarah Marwil Lamstein, art by Carol Benioff. This book invites you to discover what keeps salamanders busy after the sun goes down.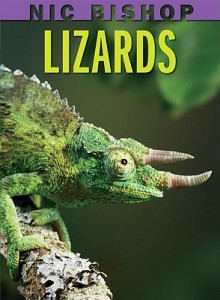 LIZARDS by Nic Bishop is the newest gem (also try FROGS) in his nonfiction natural history series.