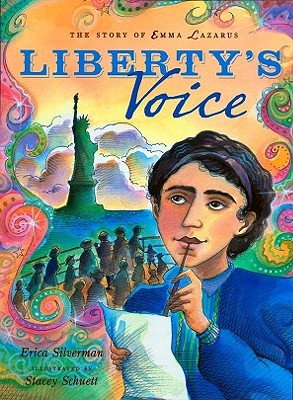 There is really no shortage of picture book biographies. And so many good choices, it's hard to settle on a few. As an educator, it's important to me to bring to my students' attention, not only some of the "old" favorites, but to continue to provide many newly published books, as well.
There are often questions about who has the right to tell some of these stories, and how, exactly these stories must be told if they're to be considered true nonfiction. We've left those discussions for other places. Here, we look at books that open a window onto another time and place, to a life others have lived. With that knowledge, we appreciate the view.

LIBERTY'S VOICE: The Emma Lazarus Story by Erica Silverman, illustrated by Stacey Schuett
"The New Colossus" was the only piece of writing read aloud at an auction held to raise funds for the pedestal upon which Lady Liberty would stand.  Students will want to learn more about Emma and the life that led her to write this poem after you've read: "Emma Lazarus loved to learn. She had a passion for words and a hunger for knowledge… But back in 1849, when Emma was born, people believed learning was not ladylike and that girls who used their brains too much would become ill.  Fortunately, Emma's father did not agree…"
It's true, this isn't the only book for children about Emma Lazarus, but it's *my* favorite, not only for Erica Silverman's skillful use of language, but also for the gorgeous illustrations. There's something uplifting and brilliant about this combination of words and color.
BEFORE THERE WAS MOZART: The Story of Joseph Boulogne, Chevalier de Saint-George by Lesa Cline-Ransome, illustrated by James E. Ransome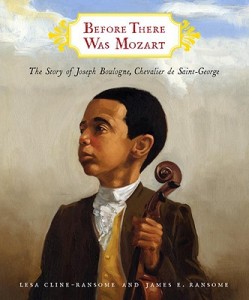 One of the amazing things about books for children is that authors seem to uncover and bring to light important people whom children (and adults, including me!) have never read about before. This is one such book about a man, Joseph Boulogne, born of a slave mother and his French, plantation owner, father, who moved to Europe with his family, became a well-known and applauded musician, and overcame the prejudice of his peers to eventually earn an invitation to play for King Louis XVI and Marie Antoinette. An author's note gives additional background.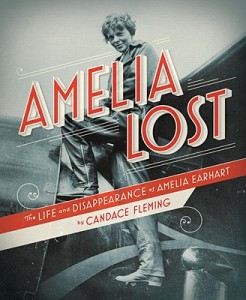 AMELIA LOST: The Life and Disappearance of Amelia Earhart by Candace Fleming
Amelia Earhart can be found on the pages of many books written for children. But AMELIA LOST is full of well-documented primary and secondary source material and a point-of-view I've not seen in other books about Earhart. Moving between the search for Amelia's plane and the unfolding of events in Earhart's life, this is a biography unlike any written to date. Pure and simple, it's fascinating reading for children and adults.
BASKETBALL BELLES: How Two Teams and One Scrappy Player Put Women's Hoops on the Map by Sue Macy, illustrated by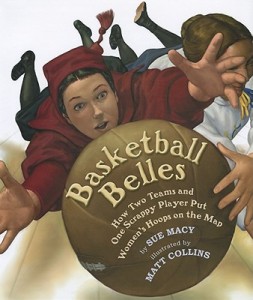 Matt Collins
According to the timeline at the end of the book, basketball was invented by James Naismith in Springfield, Massachusetts in 1891. A few years later, in the spring of 1896, Agnes Morley and her teammates played ball, representing Stanford University against Berkeley in the first women's intercollegiate game.
This important face-off was only the beginning. It would be another 80 years before basketball would become a medal sport for women at the Summer Olympics. Amazing, isn't it?
T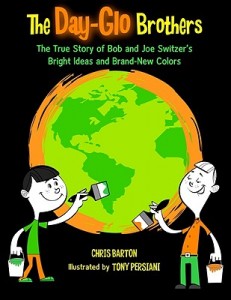 HE DAY GLO-BROTHERS: The True Story of Bob and Joe Switzer's Bright Ideas and Brand New Colors by Chris Barton, illustrated by Tony Persiani
There is so much to love about this book. Not only do the illuminating day-glo colors scream for attention, but the story, as told by Barton, is quite a journey. Glowing paints on a "peculiar-looking angel food cake"? Magic acts, fluorescent-painted paper costumes,  silk fabric, glowing in the backyard – in ordinary daylight?
Information about regular and daylight fluorescence rounds out this fascinating story, and an author's note at the end recounts the initial spark that led Barton to write the book.
THE EXTRAORDINARY MARK TWAIN (According to Susy) by Barbara Kerley, illustrated by Edwin Fotheringham
One of the wonderful things about recently published biographies for children is the way the form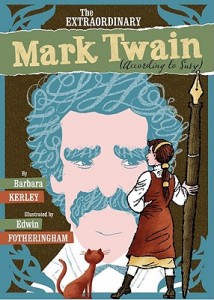 and format has grown. It's a simple thing, yes, but this story – a picture of Mark Twain through the eyes of Susy, his daughter – is formatted in such a way that Susy's words are reproduced between the pages of the narrative, as a separate small journal until itself.
Author's notes about "Papa" and "Susy" can be found at the end of the book as well as a page titled, "WRITING AN EXTRAORDINARY BIOGRAPHY (According to Barbara Kerley)."
A "mini-version" of this resource can be found on Kerley's site HERE.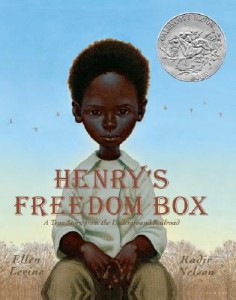 HENRY'S FREEDOM BOX: A True Story from the Underground Railroad by Ellen Levine, illustrated by Kadir Nelson
Henry Brown mailed himself to freedom. He arrived in Philadelphia, 350 miles from his home in Richmond, Virginia, some twenty-seven hours later. Carrying only a few biscuits, a little water, and a small tool for making air holes, Henry was finally a free man.