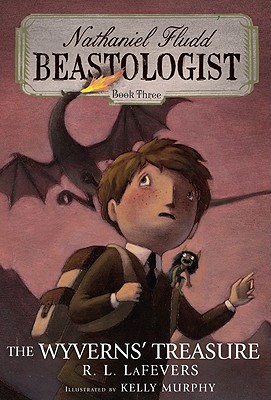 One of the wonderful things about books in a series is that there is, really and truly, something for everyone – from fantasy to historical fiction, serious to humorous, hefty tomes of over five hundred pages to short, realistic fiction chapter books for the newly transitioning reader.
This week's Book Room is a small sampling of that variety. What are some of your favorites?
NATHANIEL FLUDD, BEASTOLOGIST: The Wyverns' Treasure, Book 3 by R. L. LaFevers, illustrated by Kelly Murphy
In book one, Nathaniel Fludd, age ten, finds himself orphaned and somewhat reluctantly placed into the care of his father's long-lost cousin, Philomena Fludd. Aunt Phil, it seems, is the world's last remaining beastologist – someone who studies beasts. Unusual, rare, exotic beasts. It's a world, up to this point, completely unfamiliar to young Nate – so dangerous and full of adventure that Nate sometimes wonders if he'll survive.
In this latest book, Nate, Aunt Phil, and Nate's pet, a gremlin named Greasle, are off to northern Wales. Cornelius, Aunt Phil's dodo bird, has sent word that the wyverns, one of the last surviving breeds of dragons, are on the rampage. Someone has been trespassing into wyvern territory and the delicate covenant, agreed upon by the countrymen and the wyverns over a thousand years prior, is in jeopardy. Will Nate and Aunt Phil remove the intruder and discover the one treasure that will satisfy Old Nudd, the cranky, ancient wyvern?
DEAR AMERICA: THE FENCES BETWEEN US, The Diary of Piper Davis by Kirby Larson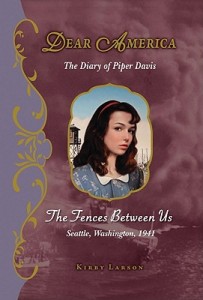 It's November 1941 and the times, by most people's standards, are uncertain. But to 13 year-old Piper Davis, the trouble brewing in Europe and Indochina is about as far away and dangerous as the moon is from her comfortable home in Seattle, Washington. After all, Piper cares about the things all girls her age are interested in. School, the hit parade, and the dreamy guy, Bud, she's had a crush on since fifth grade.
But the war isn't as far away as Piper once believed, and when the Japanese bomb Pearl Harbor, it seems Piper and her father, who pastors at a Japanese Baptist Church, find themselves in the middle of larger dilemma.
When her neighbors and friends are suddenly singled out and hauled away to internment camps, Piper begins to see things with new eyes. Over time, her friendship with Betty Sato deepens and when her father decides that Piper and he must follow his congregation to the Minidoka War Relocation Camp in Eden, Idaho, Piper begins to understand the meaning of true friendship.
THE FENCES BETWEEN US is the first in the revived DEAR AMERICA series. Learn more about the world, as Piper Davis knew it, here: The Scrapbook of Piper Davis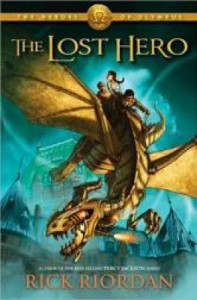 THE HEROES OF OLYMPUS: The Lost Hero, Book 1 by Rick Riordan
THE LOST HERO is the first book of Rick Riordan's – author of the very popular PERCY JACKSON AND THE OLYMPIANS – newest series: THE HEROES OF OLYMPUS. It begins several months after the THE LAST OLYMPIAN and introduces three new characters, demi-gods Jason, Piper, and Leo. As the story unfolds, these heroes begin to put together the pieces that they'll need in order to set off on a quest of their own to rescue Hera and prevent Gaea from raising Porphyrion, king of the giants, from the depths of the earth.
Of course, this is just the beginning for Jason and his friends, and by story's end, readers will be anxious to follow the three heroes on the next leg of their journey.
LUCY ON THE LOOSE by Ilene Cooper, illustrated by Amanda Harvey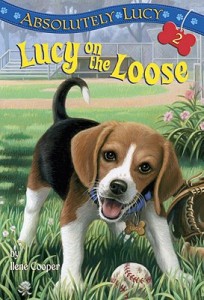 Lucy is a beagle who loves to run. Unlike Bobby, her owner, Lucy makes friends easily. Of course, being as squirmy and inquisitive as Lucy is, it's not hard to imagine how easy it is for Lucy to disappear. Especially when Bobby's friend's little brother, Ben, takes Lucy off her leash.
This series is perfect for young readers transitioning to chapter books.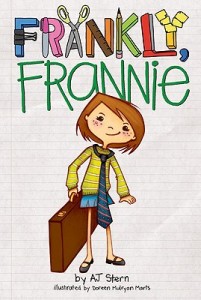 FRANKLY FRANNIE by A.J. Stern, illustrated by Doreen Mulryan Marts
Frannie is an original, one of a kind girl who wants a job. Of course, she doesn't mean to find herself in the midst of trouble, but somehow, that's exactly what happens every time she thinks she's being helpful.
In this, the first of the series, Frannie fills in when the local radio host suddenly disappears. How was she supposed to know that all the people banging on the radio control booth window and signaling her were trying to get her off the air!
Frannie is energetic and spunky with a voice that seems modeled after Clementine's. Even so, Frannie is definitely her own unique person.
DEAR DUMB DIARY: Okay, So Maybe I do Have Superpowers by Jim Benton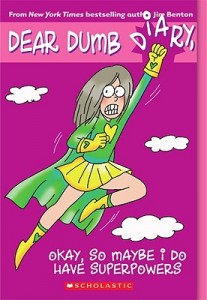 I have to admit that this series is one I could have easily steered clear of. Hot pink cover. A title with the word "dumb." It didn't sound like a book I'd want to put on my shelves. But then a new student joined our class mid-year and when asked what she liked to read, DEAR DUMB DIARY was her number one choice! She gushed over these books, so I absolutely had to check them out.
Slightly wacky, slightly irreverent (in a completely elementary school way), I found the story-line a bit hard to follow, but even so, there are many funny moments throughout and I can see why these books are such a hit.
In this latest book, Jamie believes she must have super-powers. Why else would she be doing the crazy things she's been doing (like actually kicking her good friend in the face?!?) and suddenly making some sense out of "boy speak"?
This series may not be for everyone, but it's nice to have on a classroom or library shelf, as the humor will appeal to many.