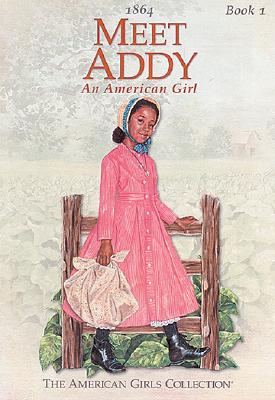 Historical fiction may sound stuffy, but THE AMERICAN GIRL series is anything but. This series, as well as the DEAR AMERICA books, have brought both history and diversity to a new level of authenticity, and plain good story-telling to readers plunging into "long" chapter books.
Take a look at the adventures of ADDY from the Civil War era or JOSEFINA, who brings to the pages the hopes, dreams, and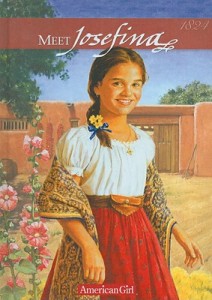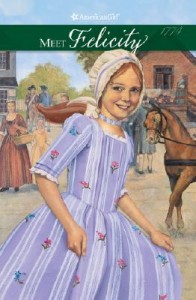 adventures of a young Mexican girl living on a rancho in 1824 Santa Fe.  My own granddaughter has read and re-read the books about FELICITY and in doing so has learned about Colonial America  – the clothing, food, and restrictions put on women, as well as the political questions of the era. The series presents the best of the times but also the issues faced by all girls of every time.  At the end of each book are "Look Back" pages that give "A Peek into the Past."  Historical information plus a variety of images – photos, art, posters, even postcards – show an interesting, in-depth view of the historical period. The publishers, Pleasant Company, offer almost every type of activity and "accessory" imaginable.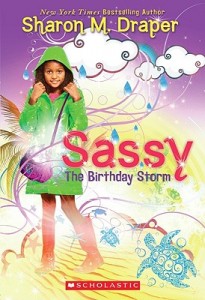 The SASSY series by Sharon M. Draper is full of strong, delightful, and believable characters, especially Sassy.  School Library Journal's words of praise include "…Draper hits her middle grade target…Filled with energy and opinion, Sassy more than lives up to her name."
SASSY is a perfect choice for readers comfortable with early chapter books and ready for longer challenges.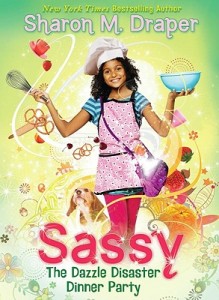 In THE DAZZLE DISASTER DINNER PARTY, Sassy wants to cook a fancy meal and, of course, it turns out to be a disaster. The apron is pink and perfect but nothing else is.  Sassy's cooking is a mess – who will eat it?  At least the dog eats the cake. But Sassy's overstuffed backpack is the "dish of the evening." Who knew stuff in a pack could save a party!  With Sassy Simone Sanford, her sparkle and ingenuity "take the cake."
Simple and perhaps disaster-proof recipes are described in the back of the book.  Readers are encouraged to put on an apron and whip up a Sassy dish!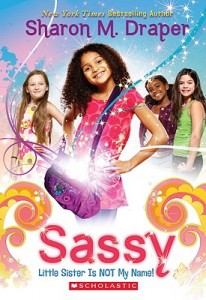 Readers can start with Sassy's dinner party disaster or the first book of the series, LITTLE SISTER IS NOT MY NAME.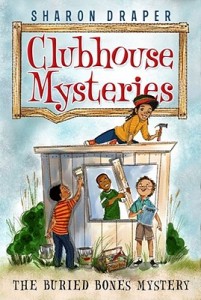 Another older, but popular chapter-book series is ZIGGY AND THE BLACK DINOSAURS. The books are full of adventures, such as: Stars and Sparks on Stage.
Look for this series in its new, repackaged form, as The Buried Bones Mystery (Clubhouse Mysteries), scheduled for release in July.
Sharon M. Draper is the author of many award-winning books, including recent ones for older readers: OUT OF MY MIND, COPPER SUN, and WE BEAT THE STREET. Draper has not only been honored with several prestigious awards (Coretta Scott King), but was also the 1997 National Teacher of the Year.