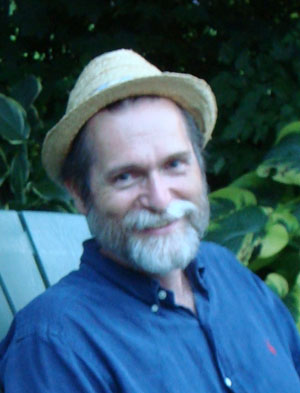 ReaderKidZ is pleased to welcome Tony Abbott, author of the wildly popular and long-running (11 year!) Droon series. THE FINAL QUEST,  the most recent and last book in THE SECRETS OF DROON, brings Eric, Keaah, Neal, and Julie together in a final standoff to defeat Gethwing and save the Kingdom of Droon.
These books have gained a following in every age range, kids to adults, and were voted by the American Booksellers Association among the "Top Ten List of Books to Read While Waiting for the Next Harry Potter." Can there be a greater compliment to the power of series and the epic nature of this *particular* series than this?
Reviewer and librarian, Betsy Bird, describes Abbot's work this way: "Maybe that's Abbott's super-power. It doesn't matter if he's writing about three kids and a staircase of rainbows (THE SECRETS OF DROON) or a tale of a boy and a girl at a Catholic school (FIREGIRL). Whatever he writes is infinitely readable. And that's a power more than one author would kill to get their hands on."
From Tony Abbott:
Dear Reader . . .
It's a funny thing. I didn't read a lot of fantasy books when I was young. I loved stories like Peter Pan and The Wind in the Willows and Treasure Island, but I didn't find the stories of wizards and magic all that interesting. Until . . . in high school when I was thirteen, fourteen years old, I discovered the stories of The Thousand and One Arabian Nights.  These are the stories about Sinbad the Sailor and Aladdin and the Magic Lamp, and Ali Baba and the Forty Thieves, where the enchanted cave of riches opens when you say, "Open, Sesame!" In those stories I fell in love with deserts and caravans, with flying carpets and cities of gold, and with that strange, mysterious sort of magic of genies. This stayed with me from then on. Then, about fifteen years ago,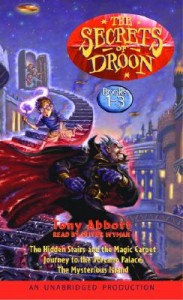 I was asked to think about writing a fantasy series. And all the great stories of the Arabian Nights came back to me. At this time also the word "Droon" spoke itself to me. And I knew instantly that this was the name of a huge world of enchanted cities and deserts and seas. That's really how Droon was born. I went into my workshop, got out lots of sheets of blank paper, and began to sketch out ideas for characters and places and magic and . . . trouble. Droon was to be a world in trouble. Out of all these thoughts came the first book, The Hidden Stairs and the Magic Carpet — which tells of Eric, Julie, and Neal finding the stairway to the magical world of Droon.
Coming Soon…Tony's Newest Series:
My new series is called UNDERWORLDS, and the first volume, "The Battle Begins," will appear from Scholastic in its book fairs and book clubs this September, and in bookstores in the spring of 2012. It's about four friends — Owen, Jon, Dana, and Sydney (the last two are girls), and it begins with one of them vanishing at school. The others discover that maybe the ancient Underworlds of gods and monsters and heroes and magic are behind the vanishing. They band together to find their friend, and discover that there is something going very wrong in the ancient places. There is unrest in the Underworlds — all the different ones, Greek, Norse, Egyptian, Indian. And a battle is beginning that will spill up to our world. It's exciting to be at the very beginning of a series like this. There are so many stories from the ancient myths and legends to draw from, but it is happening now, which changes things quite a bit. And the kids are just like us. The first story starts out like any typical morning at any typical school. Then . . . things change quickly, and the adventure begins. I am having a lot of fun crafting these first few stories. I hope my loyal Droon readers find these new stories fun and exciting, too!
Read "What's Your Story, Tony?" HERE.
For more about Tony, visit his website HERE.