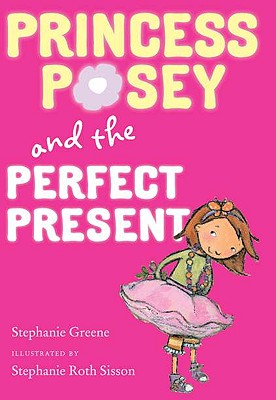 Kids love books in a series and one of the most wonderful things about that, is that once children have gotten HOOKED, they're guaranteed more delightful reads.
Fortunately, there is no shortage of series for the K-5 reader. We've included a few recent favorites here, some, perhaps, more familiar than others.
PRINCESS POSEY AND THE PERFECT PRESENT by Stephanie Greene, illustrated by Stephanie Roth Sisson
Princess Posey is absolutely one of the best new transitional series to publish in the last year. This second in the series is as charming as the first and brought smiles from the very first pages. It's that wonderful!
In Book 2, (coming in early March) Posey wants to give the perfect gift to her teacher, Miss Lee. Best friends, Nikki and Eva have each decided on very, very special presents. Posey has, too, and she's certain that when her teacher, Miss Lee, sees what she's chosen, she'll "smile and smile." Not surprisingly, "In her secret heart, Posey hoped Miss Lee would like her more than anyone."
Of course, things don't turn out quite as she'd hoped and the way Posey ultimately solves her problem will endear her all the more to readers' hearts.
* Learn more about author, Stephanie Greene, in a ReaderKidZ Author-In-Residence post  HERE.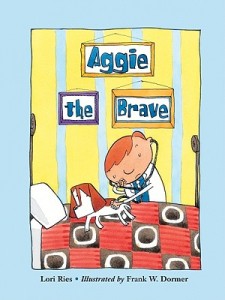 AGGIE THE BRAVE by Lori Ries, illustrated by Frank W. Dormer
Aggie has an appointment at the vet's and both she and Ben must be brave. Ben has all sorts of worries. "Will Aggie get hurt? What if she gets hungry?" Poor Ben's none too happy when he learns that Aggie will have her very first sleepover without him. Ben will have to watch tv with an empty lap and go to sleep in an empty bed…
When Ben picks Aggie up the next day, he learns she must walk around with a lampshade on her head. That's when Ben decides to turn Aggie the Lamp Head into Aggie the Lion!
This series was completely off my radar until a friend led me to it and I'm so glad she did. Three short chapters, marvelously illustrated by Frank Dormer (Socksquatch), make this the perfect book for beginning readers.
BAD KITTY VS. UNCLE MURRY: The Uproar at the Front Door by Nick Bruel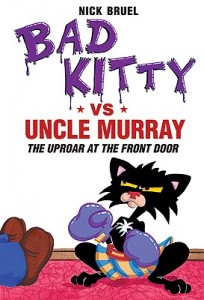 I remember reading the first BAD KITTY picture book when it was released over 5 years ago. Students loved that alphabet book, as well as its follow-up POOR PUPPY. More recently, Bad Kitty has found an equally enthusiastic audience for its new chapter book format.
The most recent of these, BAD KITTY VS. UNCLE MURRAY, was a delight to read and Bruel has clearly found a format with the room he needed to fully develop KITTY's character. In each chapter, not only does Bad Kitty give Uncle Murray a run for his money but, sandwiched between,  informational "Uncle Murray's Fun Facts,"  give the reader something extra. Look for next book,  BAD KITTY MEETS THE BABY, in June.
DRAGON BREATH: Curse of the Were-Wiener by Ursula Vernon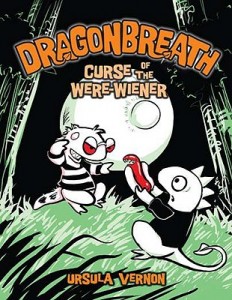 A book about a dragon named Danny and an iguana named Wendell who are best friends is wild enough. But in this latest adventure, when a weird-looking, candy-apple red, school cafeteria hot dog bites mild-mannered Wendell, things begin to turn wilder still! Could Wendell be morphing into a were-wiener?
Strange things are happening and with a full moon on the rise, there's no telling what Wendell might be capable of! Fortunately, Danny Dragonbreath's on the job, and with any luck, he'll have the Curse of the Were-Wiener solved before you know it. Look for the newest book in the series,  DRAGONBREATH: LAIR OF THE BAT MONSTER, in March.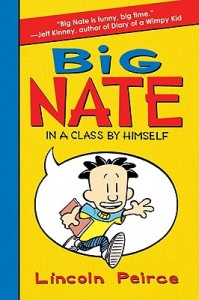 BIG NATE IN A CLASS BY HIMSELF by Lincoln Peirce
Big Nate is like Diary of a Wimpy Kid for a slightly younger audience. Text is broken up with comic panels and spot illustrations in a way that is sure to draw in even the most reluctant reader.
This first in the series follows Nate through an ordinary day at school, which, for Nate, usually means trouble. Except, this day, Nate's fortune cookie fortune reads: "Today you will surpass all others." And true to form – and fortune – by the end of the day, Nate does manage to set a new school record. He won't get one of those display case trophies, but he does leave his mark for all posterity. Look for BIG NATE BOREDOM BUSTER in April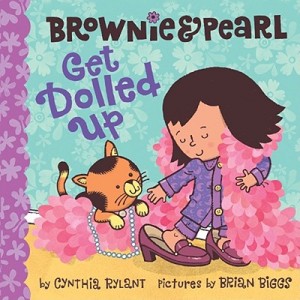 BROWNIE AND PEARL GET DOLLED UP by Cynthia Rylant, illustrated by Brian Biggs
Brownie and Pearl are dressing up and they've got all the fixings to sparkle and shine. This short (24 page) text by one of my personal favorite authors, Cynthia Rylant, is a series the youngest child will enjoy reading over and over. Look for the newest, BROWNIE AND PEARL TAKE A DIP, in April.