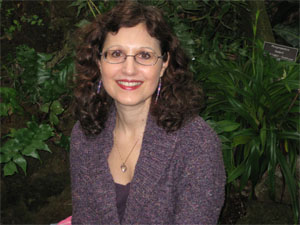 When Freddie Ramos gets home from school one day, he discovers a mysterious package. Inside, he finds a pair of jazzy purple sneakers. An unsigned note accompanies the shoes: Zapato Power for Freddie Ramos. What could it mean?
Freddie soon learns that Zoom! Zoom! Zapato! power has its benefits. Not only can Freddie use his speedy powers to outrun a nearby train and lend a hand to a friend in need, but he soon discovers that his kind heart, positive attitude, and clever mind make his a super hero in his own right.
Freddie's just the kind of super hero young readers will love to read about over and over and over again!
From Jacqueline Jules:
I work in an elementary school as a part-time teacher. This gives me the opportunity to hear and see many real-life things that go on in a school. One day, at a staff meeting, our assistant pr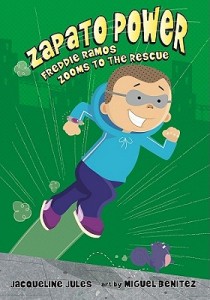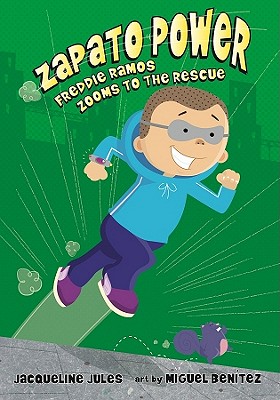 incipal shared a story of a squirrel who followed a group of students into the school after recess. The door was propped open and the squirrel just dashed in behind the last kid. The administrator told the story to remind teachers to be careful about closing doors to the building. But as I listened, I came up with an idea to begin Zapato Power # 3.
"What a great first chapter for Freddie!" I thought. "Freddie could use his Zapato Power and run through the school after the squirrel."
Since I only had a beginning to my story, it took me awhile to come up with a mystery involving the squirrel and a heroic rescue that tied in with the rest of the story. I did some research about squirrels on the internet and slowly but surely one idea joined with another until I had a beginning, middle, and end.
Read "What's Your Story, Jacqueline Jules?" HERE.
For more about Jacqueline, visit her website HERE.