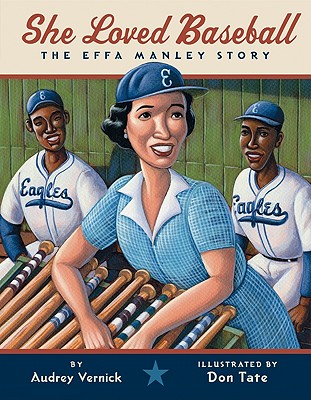 SHE LOVED BASEBALL: The Effa Manley Story by Audrey Vernick, illustrated by Don Tate
Effa's gravestone reads: SHE LOVED BASEBALL. And did she ever!
In 1935, Effa and her husband, Abe, started the Brooklyn Eagles in the new Negro National League. A year later, when the team moved to Rupert Field, Effa took on the job of managing most of the Newark Eagles' business.
She worked tirelessly, not only against the injustices her players faced, but other inequalities she witnessed in the black community.
Effa organized the Citizens' League for Fair Play, to urge the largest department store in Harlem to hire black salesclerks. When Negro League players began to move over to the major leagues, once again, Effa was instrumental in changing the practice of signing players with no compensation for the Negro League team they came from.
Times changed and the Negro Leagues soon found themselves obsolete. Effa took up the cause and began a letter-writing campaign to persuade the National Baseball Hall of Fame to recognize Negro League Stars.
Twenty-five years after her death, Effa Manley was the first woman inducted into baseball's Hall of Fame!
CAM JANSEN AND THE SPORTS DAY MYSTERIES by David A. Adler, illustrated by Joy Allen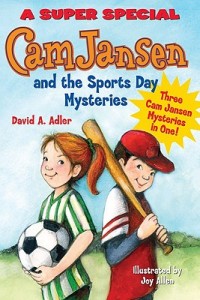 It's Sports and Good Nutrition Day and, once again, Cam's amazing photographic memory comes to the rescue! In three short chapter books rolled-into-one, the pictures Cam stores in her head enable her and her classmates to solve the three mysteries (The Backward Race Mystery, The Soccer Game Mystery, The Baseball Glove Mystery) that surface at Franklin Park over the course of the fifth grade's Sports Day.
Beginning chapter book readers who are familiar with other of the Cam Jansen mysteries, will enjoy reading this newer collection in the series.
THE BABE AND I by David A. Adler, illustrated by Terry Widener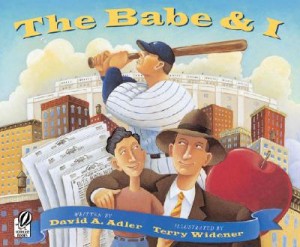 Times were hard in 1932. It was the Great Depression and millions were out of work. THE BABE AND I tells the fictional story of one such family.
Selling papers near Yankee Stadium and calling out headlines heralding Babe Ruth's successes on the field, the young narrator ties his success to Babe's and manages to earn extra change for the family money jar by working as a newsie.
When he discovers that the "office" his dad carries his briefcase to each day is really a corner on Webster Avenue where he's forced to sell apples in order to earn small change for the jar, the young narrator learns to appreciate the sacrifice his own father makes in order to care for his family.
Gordon Korman is a favorite among middle grade readers and SWINDLE, the first in a series of three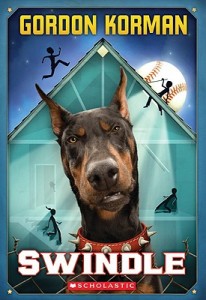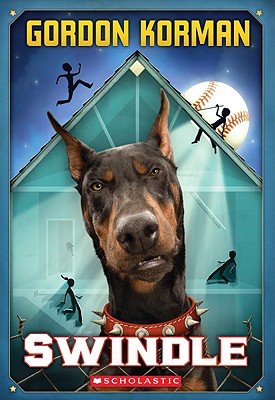 books about Griffin Bing, "The Man With a Plan," comes highly recommended. It's a read-aloud pick that makes its way each year into the repertoire of one of the teachers at my school, and while I wasn't sure how I'd feel when I first began the book, I have to say that the story grew on me and I can see why kids love Korman's books as much as they do.
Griffin Bing and his cohort of school pals seem to get mixed up in one crazy situation after another. This time, Griffin's stumbled upon a valuable Babe Ruth baseball card, purportedly worth millions. But before Griffin has a chance to cash in, he's swindled out the money by the shady S. Wendell Palomino of Palomino's Collectibles.
While the plot sometimes veers into implausible territory, the story moves quickly and Griffin and his band of friends manage to come out on top.
For those who enjoy this book, Zoobreak and Framed follow the same cast of zany characters in more fast-packed action.
BABE RUTH AND THE BASEBALL CURSE by David A. Kelly, illustrated by Tim Jessell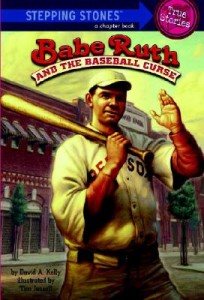 I admit to knowing very little about sports. None of us – my sisters, mom, not even my father – watched or played sports. As such, I have no particular team loyalties and all I know is what I've gleaned over years of watching my sons' games and listening in on bits and pieces of conversations they've had with my husband.
Fact: there is almost no sports trivia that can stump my husband. He knows more than his lifetime's worth of information.
So it was a particular pleasure to read BABE RUTH AND THE BASEBALL CURSE. I, of course, knew nothing of the curse, and this Stepping Stones Chapter Book was just ticket! Not only did I learn a few (many, actually) new things about Babe's career, but I also learned a small bit of trivia that even my husband didn't know. The whole book was quite fascinating. From this non-sports reader, that's got the be the ultimate compliment!
YOU NEVER HEARD OF SANDY KOUFAX? by Jonah Winter, illustrations by André Carrilho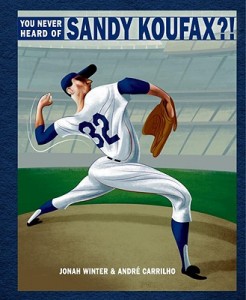 The cover of YOU NEVER HEARD OF SANDY KOUFAX?! is stunning and made quite a name for itself when the book was first published. (For those who are interested, there's a description on the copyright page of how this "lenticular" cover was made.) But it's Winter's words and Carrilho's striking illustrations that carry this story of the power pitcher who emerged in the early 60's – "For six years, Koufax stood on the pitcher's mound like a prince, and when you looked at that serious mug of his, you could tell he was gonna beat you."
The book – words and illustrations – are a supreme example of what the best picture books aspire to. And the reader is left with the essence of Koufax – a very private, yet determined, man who had the fortitude and character to do what he needed to do, on the field and off.
THE LUCKY BASEBALL BAT by Matt Christopher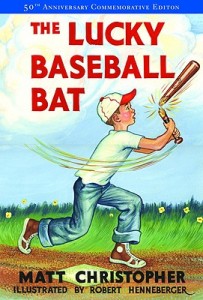 I've included THE LUCKY BASEBALL BAT by Matt Christopher (one of the first names that comes to mind when thinking about sports novels), not so much because it gets high marks for well-crafted fiction, but because a second grade teacher I know passed it along as the first real chapter book to win the heart of one of her students. He could manage the short chapters and enjoyed the success of having tackled what felt like his  first "real book." First published in 1954, THE LUCKY BASEBALL BAT was also one of the first such books my husband read, oh-so-long-ago. Which just goes to show, it's not always easy to predict which book will win the heart of a reader.
Find more great books about baseball HERE and HERE.

WE ARE THE SHIP by Kadir Nelson;BASEBALL SAVED US by Ken Mochizuki, illustrated by Dom Lee; A DIFFERENT GAME by Sylvia Olsen; CATCHING THE MOON: The Story of a Young Girl's Baseball Dream by Crystal Hubbard, illustrated by Randy DuBurke.