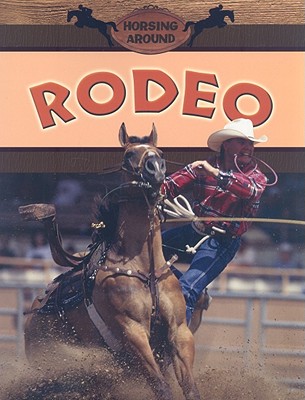 Rodeo, a sport?  Yes, indeed.  Rodeo is the United States only "home-grown" sport.  Interest and participation in rodeo competition has been soaring. RODEO by Robin Johnson will bring readers right into the arena where the dust is swirling and cowboys and cowgirls are getting ready to ride a rearing-kicking bronco or a twisting, spinning Brahma bull. Young readers will thrill to read about the speed and spins of barrel racers in this exciting book.
COWGIRL by Murray Tinkelman, (Out of Print) is a classic look at this "made in America" sport.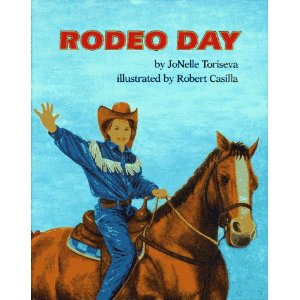 "Let's have a big round of applause for our first cowgirl competitor at this rodeo," the announcer booms.  And out she races! Readers will follow the action from the grooming of a rider's horse to the winning of a barrel-racing event as rodeo cowgirls compete in COWGIRL or in RODEO DAY (Out of Print) by JoNelle Toriseva, illustrated by Robert Casilla. Put on your chaps and spurs, shove back your broad-brimmed hat and get ready to ride.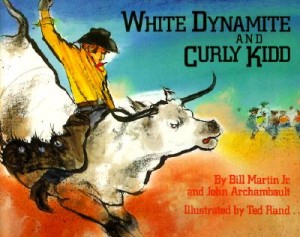 What a surprise! Take a gander at WHITE DYNAMITE AND CURLY KIDD by Bill Martin, Jr. and John Archambault, illustrated by Ted Rand.
Not your usual picture book, but a delightful, cowpoke dialogue between champion bull-riding Dad and his "waiting-to-be"  bull-riding kid.
"Are ya' scared, Dad?" the child asks the dad, Curly, the toughest bull rider east or west of the Mississippi.
"Nope." Dad answers with his usual one-word reply.  We follow them both as they straighten chaps, tighten  boots and push back broad-brimmed hats getting ready to ride the meanest, toughest bull in the West – White Dynamite.
Bull riding, some say, is the most dangerous sport….Yep. Could be.
NATIVE ATHLETES IN ACTION! by Vincent Schilling.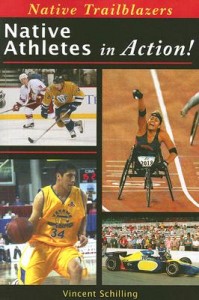 Schilling is an enrolled member of the St. Regis, Mohawk Tribe and an athlete who runs, bikes, skis, swims – and writes! 7th This collection of stories highlights the achievements of thirteen champion American Indian athletes: Jordin Tootoo, Inuit, hockey; Cheri Becerra-Madsen, Omaha, wheelchair racer;  Alwyn Morris, Mohawk, kayaking; Stephanie Murata, Osage, wrestler; Cory Witherill, Navajo, Indy Race Car driver; and Delby Powless, Mohawk, lacrosse.  Each story shares the excitement of the sport and the importance of the choices individuals made to become champions.