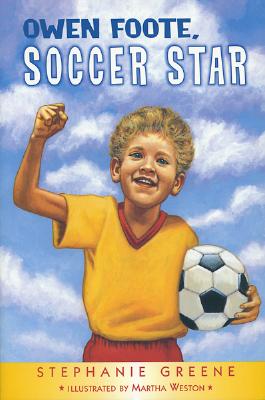 OWEN FOOTE, SOCCER STAR by Stephanie Greene
Owen Foote has been playing soccer on the playground at Chesterfield School since kindergarten, but this year he's in second grade. This year, kids join the town league where they get to play on a real soccer field. Owen can't wait! In fact, he loves soccer so much, that he's spent the whole summer convincing his best friend, Joseph, to play.  "All you have to do is run and kick," Owen had said. "Great," Joseph had answered. "The two things I can't do."
In spite of all that, the boys are excited when they end up on the same team. But when Dave, the coach, decides to split the team up into Aliens I and Aliens II and one of the bigger kids starts to make fun of Joseph, calling him the Chesterfield Klutz, Owen suddenly realizes soccer's going to be a lot more complicated than it's ever been.
Readers will love the humor throughout and the way Owen works through these unexpected challenges to find a way to honor his friendship with his best buddy, Joseph.
(View a Tool Box post HERE.)
GOAL! by Mina Javaherbin, illustrated by A. G. Ford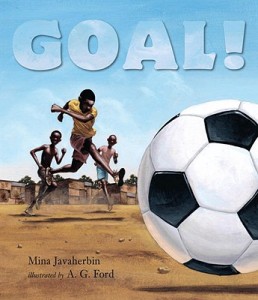 Soccer – or football, as it's known in most countries – is a game played and enjoyed by children and adults the world over.  Goal! is about the power of small things and the joy and freedom Ajani and his friends experience when they play with Ajani's new federation-size football in the often, unsafe streets of a South African township. Bullies patrol the streets, but the boys have a plan and when they play, "the sound of our kicks on the ball is music."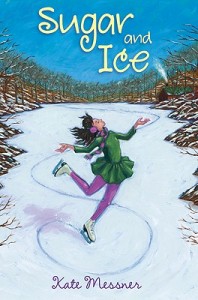 Claire Boucher loves her home in Mojimuk Falls, skating on the frozen cow pond, and helping her family on their maple farm. She's perfectly happy going to school, working as a junior coach for the Northern Lights Skating Club, and hanging out with her best friend, Natalie. But all that changes after Claire is offered a scholarship to train at the Olympic Center in Lake Placid. It's the opportunity of a lifetime, too good to pass up.
But once the training begins, Claire discovers it's not so easy finding her balance in a competitive arena full of mean-girl skaters. Will she manage to keep her scholarship and her commitment to see things through to a satisfactory end?
WATCH ME THROW THE BALL! by Mo Willems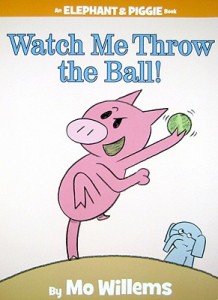 Like all the Elephant and Piggie books, Watch Me Throw the Ball!, features best friends, Gerald, the cautious and careful elephant, and fun-loving Piggie. As far as Gerald is concerned, ball-throwing is serious business. But Piggie has a special move that brings all that seriousness into question. What Mo Willems achieves through a few small changes of expression on Elephant and Piggie's faces is priceless.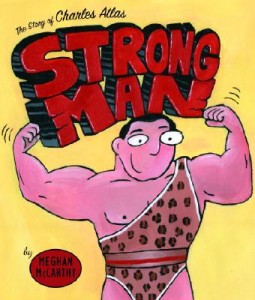 STRONG MAN: The Story of Charles Atlas by Meghan McCarthy
Charles Atlas, born Angelo Siciliano, grew up on the streets of New York over a hundred years ago. His small size made it hard to stand up for himself in the face of those who were bigger and stronger. When Angelo notices a statue of Hercules at a local museum, he dreams of being as muscular and strong as the Greek god. Amazingly, hours watching the animals in the zoo led Angelo to discover the fitness routine that would eventually lead him to earn the title of "The World's Most Perfectly Developed Man."
Engaging illustrations, a compact story-line, and endnotes, including four "Try It Yourself" exercises for kids make this an excellent nonfiction read.
GOOD SPORTS by Jack Prelustsky, illustrated by Chris Raschka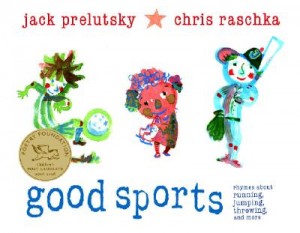 Running, jumping, throwing. Swinging, springing, somersaulting. Prelustsky's poems paired with Raschka's exhuberant watercolors bring good sporty fun to the page.