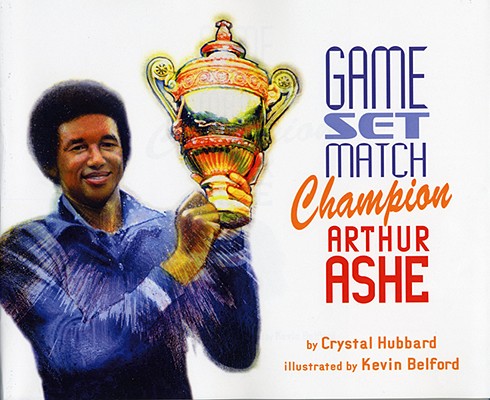 Many world-recognized athletes have had to overcome prejudice and other obstacles as children. Swimming pools only open to them one day a week. Tennis courts declared off limits. Sports leagues closed to them because of their color. Barriers of every kind. The following books tell the stories of several of them in ways young readers will relate to and be inspired by.
Crystal Hubbard's GAME, SET, MATCH, CHAMPION ARTHUR ASHE, illustrated by Kevin Belford, is the story of Ashe's longing, courage, and persistence to learn tennis and become a champion, and then work against segregation so all athletes could compete in both worlds, white and black.
Ashe's tennis skill earned him the first scholarship given by UCLA to a black tennis player. As a champion international athlete, Arthur Ashe worked for freedom for all athletes to train and compete, regardless of color or nationality.  He established tennis clinics in inner cities where there were few courts and no coaches.  When, at the age of thirty-six, Arthur suffered a heart attack that required surgery and contracted AIDS as the result of a blood transfusion, he became one of the first world champions to say to the world, "I have AIDS." (View a Tool Box post on Arthur Ashe HERE.)
ALL STAR! HONUS WAGNER AND THE MOST FAMOUS BASEBALL CARD EVER by Jane Yolen, illustrated  by Jim Burke.
Not all readers know the story of the most famous baseball card in history – the Honus Wagner card –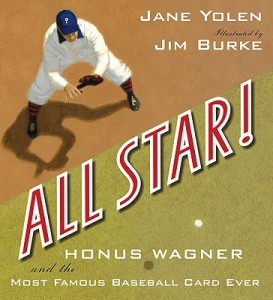 which sold for $3 million dollars in 2007!  Some say Wagner's arms were so long, he could tie his shoes without bending over.  For many years, he held the record for the most home runs, RBI, doubles, triples, and stolen bases than any player in the National League.  A kid from a mining family who had to quit school in sixth grade to work in the mines, Wagner's passion was to "play ball," and did he ever! Quite a player and best of all, quite a story.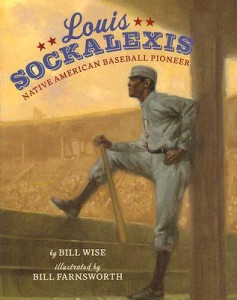 LOUIS SOCKALEXIS: Native American Baseball Pioneer by Bill Wise, illustrated by Bill Farnsworth.
"The stadium was packed…It was the top of the first inning…Louis Sockalexis was scheduled to bat third." But the crowd didn't want an "Indian" playing this white man's sport. Louis had to listen to the crowd's jeering cries, "Get a tomahawk, not a bat!"
Batting not only for his team, but for his Penobscot tribe, the intrepid Sockalexis hit the farthest home run ever seen at that time. He became the first Native American to play in the major leagues, leading the way for others to follow, including the legendary Jim Thorpe (see, JIM THORPE'S BRIGHT PATH by Joseph Bruchac, illustrated by S. D. Nelson), and fifty years later, in 1945, Jackie Robinson, the first African American to join a major league team.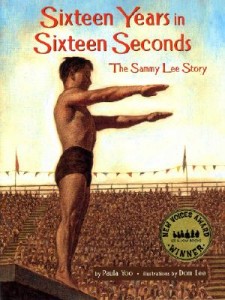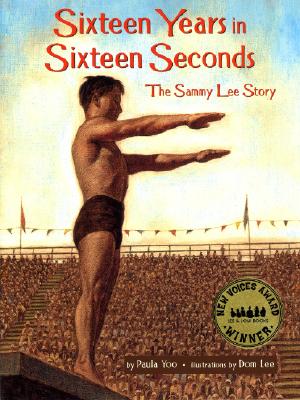 SIXTEEN YEARS IN SIXTEEN SECONDS: the Sammy Lee Story by Paula Yoo and illustrated by Dom Lee.
Sammy Lee was a Korean-American boy who dreamed of winning at the Olympics and becoming a doctor. As a young man, he  practiced dives in a backyard self-dug sandpit and trained for sixteen years for Olympic competition that would last sixteen seconds – the time from his first dive to when his scores were posted. Lee also served as a doctor in the Korean War and successfully competed in the 1952 Olympics, defending his 1948 Olympic diving title. (View a Tool Box post HERE.)
SURFER OF THE CENTURY: The Life of Duke Kahanamoku by Ellie Crowe, illustrated by Richard Waldrep.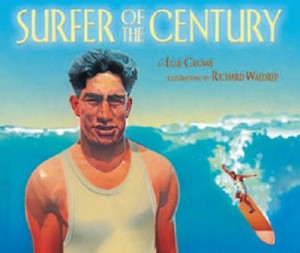 Duke Kahanamoku loved to swim and surf in the ocean surrounding his Hawaiian island home.  He became an Olympic gold medal champion and a six-time medal winner, competing in the Stockholm Games in 1912. Called the "Duke" because of his speed and endurance as a swimmer, he was the fastest swimmer in the world for more than a decade.  But surfing remained the Duke's passion. Board surfing had been the sport of Hawaiian kings for at least a thousand years.  The Duke rode the waves around the world to introduce surf-boarding as a serious sport.
PELÉ by Monica Brown, illustrated by Rudy Gutiérrez.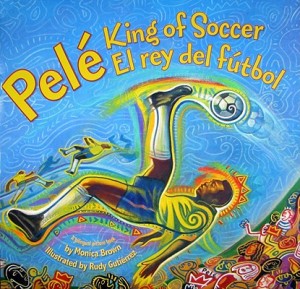 Every young soccer player knows the name Pelé. The story of a boy from Brazil who practiced in his bare feet, kicking a homemade ball made of newspapers, is a perennial favorite.  Pelé grew up to become the world's recognized "King of Soccer." His life is an amazing tale of determination and passion. (View a Tool Box post HERE.)