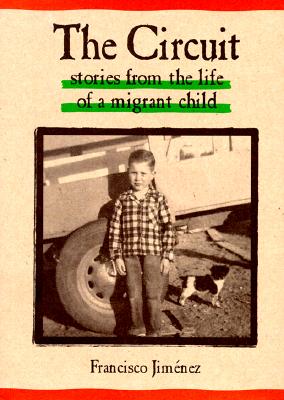 Families stick together through thick and thin. This week's Book Room selections look at some of those families. Close together or separated by miles, families are one of many reasons to give thanks, this – and every – week of the year.
THE CIRCUIT by Francisco Jiménez
As a small child traveling with his family from the village of Tlaquepaque, Mexico to the fields of Central California, Francisco Jiménez, along with his siblings and parents, dreamed of a better life in America.
THE CIRCUIT offers a peek into this new life and the day-in, day-out existence of many who, like Jiménez's family, followed the crops from harvest to harvest – one month, grapes, another, strawberries or cotton. Whatever work could be found, Francisco and his family pulled together to ensure food was on the table and the family, happy.
In a commentary she wrote for the Riverbank Review, Julie Landsman pinpoints why this book is so powerful: "Without sentimentality or melodrama, but rather with the simple power and grace of a fine storyteller, Jiménez is able to convince us of the narrator's authenticity, his good-heartedness, and the good-heartedness of his family.  We like him immensely and do not feel pity for him because he does not seem to feel pity for himself."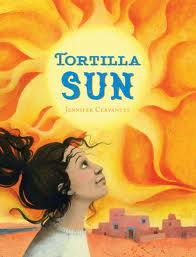 TORTILLA SUN by Jennifer Cervantes
Magic, mystery, and one family's secrets come together in this middle grade novel about a young girl, Izzy, who spends a summer away in the small New Mexico village that was once home to her mother, and the father she never knew.
Her father's untimely death shortly before Izzy was born had always been the source of many questions, but all that's about to change. Izzy's found a baseball with the words "Because… magic" written between the seams. Could her father have written those words? And what do they mean?
Soon afterwards, Izzy's mother announces she's made plans for Izzy to spend the summer with the grandmother she barely knows. Before long, Izzy's on her way to New Mexico, where the real magic begins.
FROM NORTH TO SOUTH/Del Norte al Sur by Rene Colato Laínez, illustrated by Joe Cepeda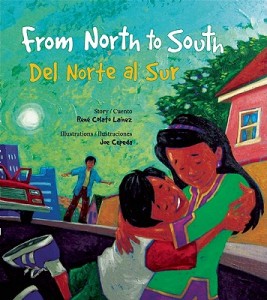 There are many reasons a child might find himself separated from family, and FROM NORTH TO SOUTH takes a one look of these: the San Diego/ Tijuana border that keeps young José apart from his mamá.
Inspired by the accounts of students in his class, Laínez writes from the perspective of a young boy, born in the United States, whose Mexican-born mamá, is suddenly deported to Tijuana, where she must wait in a home called the Centro Madre Assunta until her papers are processed and her case, resolved.
With compassion and sensitivity, Lainez writes with a heart that knows exactly what some children need to hear.
RICKSHAW GIRL by Mitali Perkins
Naima is getting older and that means that she'll soon outgrow the things that her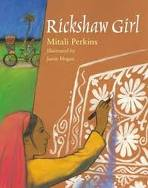 younger sister Rashida is still able to do – speak with the boy next door, Saleem, wear a salwar kameez, go to school.
As if that weren't enough, Naima's father's rickshaw business isn't going well. He struggles to earn the money needed to repay what he owes for the new rickshaw he's purchased and Naima's worried that he'll be forced to sell the golden bangles that have been in the family for generations.
In Bangladesh, at that time, "all that a girl could do was cook, clean, wash clothes, and decorate; she wasn't allowed to do any work that brought in money."
Naima's frustrated. She's known for the beautiful traditional patterns she creates, but painting alpanas won't remedy the need for cash.
While considering whether to disguise herself as a boy in order to help her father, Naima takes the rickshaw for a spin. When it veers out of control, scratching the beautiful paintings that grace its tin sides, Naima almost loses hope. Will she ever find a way to repair the damage she's done and make things new again?
THE RELATIVES CAME by Cynthia Rylant, illustrated by Stephen Gammell.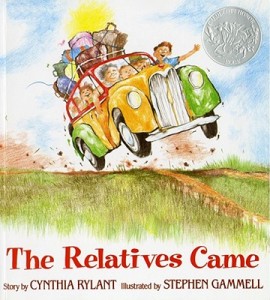 The relatives come all the way from Virginia, and when they arrive it's "hugging time" and finally a big supper, and quiet "talk in twos and threes through the house."
In one of the most beautiful lines of the book, Rylant writes, "It was different, going to sleep with all that new breathing in the house."
This classic story of family is one for any time of the year.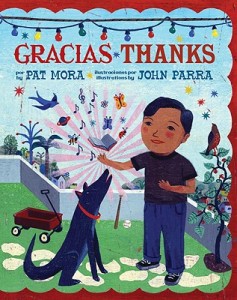 GRACIAS, THANKS by Pat Mora, illustrated by John Parra
This Pura Belpré Honor Book is a "song" of thanks for the many ordinary and not so ordinary things in the life of one child.
With words in English and Spanish, this is a book to enjoy again and again. And then, as author Pat Mora suggests, "Keep the circle of giving thanks, growing.
What are you thankful for this year?