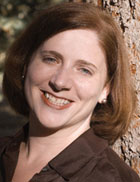 Maebelle T. Earl is one distraught eleven-year-old.  Not only is she the daughter of brilliant book-touring family therapists, but she's flunked out of the Gifted & Talented program at her school and is being forced to spend the summer with her ten-year-old, newly adopted, trumpet-playing prodigy cousin, Isaac and her beloved, quirky, and musically-gifted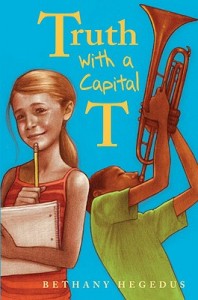 grandparents in their antebellum home in Tweedle, Georgia.
Determined to become smart enough to return to the G & T program, Maebelle maintains a 'Little Known Fact' journal, which eventually is useful in solving a centuries' old mystery involving the Underground Railroad, slavery quilt codes, and her own family's ancient family secrets.
Truth With a Capital T is a poignant novel that explores themes of racial injustice and redemption through the eyes of an inquisitive girl in search of her own self-worth. Hegedus' lively voice deftly considers the social and emotional complexities facing any middle-grade child, while approaching issues of historical harshness with great thoughtfulness, and with a love that transcends the test of time.
Read Bethany's Story HERE.
Visit the Tool Box, HERE, to access the Teacher's Guide for Truth with a Capital T.
For more about Bethany, visit her website HERE.