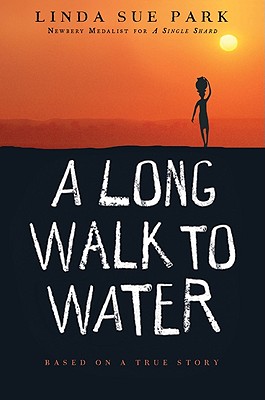 A LONG WALK TO WATER by Linda Sue Park is based on the true story of Salva Dut, who, as a 11-year old child fled Southern Sudan to Ethiopia, and later led 1500 "Lost Boys" to a refugee camp in Kenya.  At the age of 22, Salva was relocated to the United States.
Park's story of Salva's survival through war, loss, hunger and thirst is most of all about the amazing power of the human spirit to survive and bring hope to others. Today Salva Dut leads the non-profit organization, Water for Sudan he founded in 2004.
From the Water for Sudan website:
WATCH a video of Salva Dut: "A lost boy returns, transforming lives in Southern Sudan"
WATCH: Excerpts of Salva's presentations to young children and adults.
Read frequently asked questions and answers about A LONG WALK TO WATER: Information for Teachers and Students
Related Picture Books:
WATER FOR SUDAN by Robin Hill and Charles Hall, illustrated by Sherry Stasse Wright  Water for Sudan Book Sample
BROTHERS IN HOPE: The Story of the Lost Boys of Sudan by Mary Williams, illustrated by R. Gregory Christie (picture book)