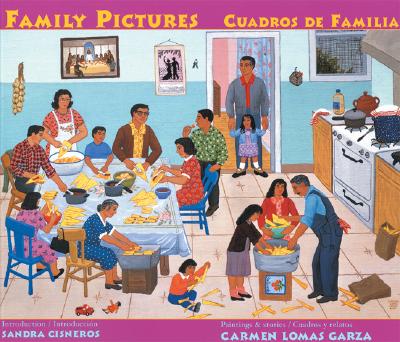 Books about families and family traditions abound and narrowing down the list has been no easy task.
This week's selections are mostly picture books with one very special EZ Read. They're old and new favorites that we're sure you'll enjoy rereading or discovering for the very first time.
Later in the month, look for more Book Room selections, including several novels and a poetry collection you won't want to miss.
FAMILY PICTURES/Cuadros de Familia by Carmen Lomas Garza
A collection of the author/artist's paintings and memories of growing up in Kingsville, Texas, Family Pictures presents a wonderful opportunity for children to reflect on their own favorite family memories.  Some of the images and short reflections in the book include: "Watermelon," "Making Tamales," and "Birthday Party." Be sure to check out a related Tool Box entry HERE.
ONCE UPON A BABY BROTHER by Sarah Sullivan, illustrated by Tricia Tusa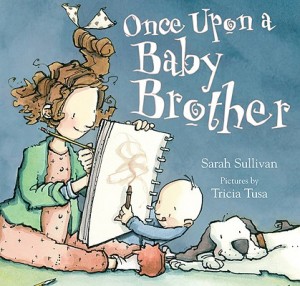 Lizzie loves to tell stories of all kinds and her parents love to listen.  All is well and good until… "her little brother, Marvin, came along." Suddenly, nobody has time for Lizzie's stories.
When Lizzie discovers that Miss Pennyroyal, her second grade teacher, loves a good story as much as she does, Lizzie is pleased.  She has tons of ideas percolating in her Imagination Notebook, many inspired by her "helpful" and adoring little brother, Marvin.
But when Lizzie's mother takes Marvin for a visit to Gramma's, Lizzie soon discovers her inspiration has disappeared. What's a star writer to do?
Enjoy this Teacher's Guide from author, Sarah Sullivan's website:  Once Upon a Baby Brother Teacher's Guide .
PECAN PIE BABY by Jacqueline Woodson, illustrated by Sophie Blackall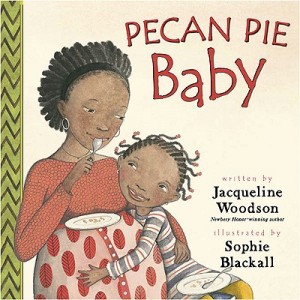 Gia's Mama's expecting a baby and it seems that's all anyone talks about. Gia's going to miss the special times she and Mama shared. "Those were the good old days," she says.
"Guess you're going to have to tell the baby all about it," Mama says. She hugs Gia and they sit, "just being all cuddly, with that ding-dang baby jumping around in Mama's belly."
A heartwarming story about family, traditions, and change.
THE COLORS OF US by Karen Katz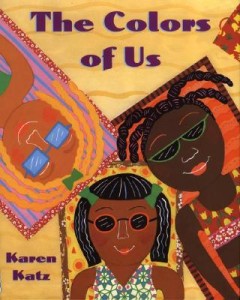 Lena is seven. "I am the color of cinnamon," she says. "My mom's the color of French toast." All Lena's friends are different shades: golden brown, bronze and ember, tawny tan, the color of ginger and chili powder. This book isn't specifically about family, but it does remind readers that each of us, including each member of our family, is unique.
BUBBA AND BEAU MEET THE RELATIVES by Kathi Appelt, illustrated by Arthur Howard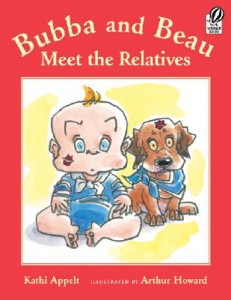 The relatives are coming and Bubbaville is abuzz.  Mama Pearl's on a home improvement spree, Big Bubba's fixing to bake his Bodacious Buttermilk Pie, and Bubba and Beau are stirring up their own kind of muddy fun.
When the kin-folk arrive, Bubba and Beau are off again with Cousin Arlene and her small pup, Bitsy in tow. A picture perfect moment – swimming in the back of the pickup – is just the beginning of the fun in Bubbaville when the relatives come!
Find more Bubba and Beau books HERE!
ZELDA AND IVY: The Runaways by Laura McGee Kvasnosky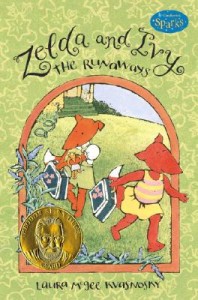 Dad's making cucumber sandwiches and Zelda has had it! She and Ivy are running away, across the backyard, and behind the butterfly bush. "We can see the house, but no one in the house can see us."
This wonderful EZ read captures the true essence of sisterhood and was given the Theodor Seuss Geisel award in 2007.  Be sure and check out other books in the Zelda and Ivy series.
WHOEVER YOU ARE by Mem Fox, illustrated by Leslie Staub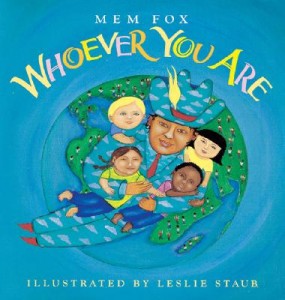 Each one of us is different. Each family is, too. Homes, lives, and words may be different, "But inside, their hearts are just like yours… Joys are the same, and love is the same… Smiles are the same.. wherever we are, all over the world."