Dear Reader:
I couldn't be more thrilled that you're reading my new picture book biography SOAR, ELINOR!
When I was a kid everyone in my family flew airplanes- my dad, my mom, even my little sister. Eventually I became a pilot, too. So when I learned about girl pilot Elinor Smith I couldn't wait to share her story. But Elinor's love of flying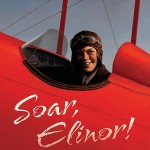 wasn't the real reason I wanted to spread the word. When she said she wanted to be a professional pilot, people told her to forget it. Girls belonged at home, not in the air. Elinor didn't listen – and soon became one of the best pilots in the world, breaking all sorts of records as a teenager.
I didn't always know I wanted to be a writer but maybe I should have because when I was a kid my favorite hobby was daydreaming. Some of my teacher's appreciated the fact that I had a lot going on inside my head. But some didn't. They thought I should pay more attention in class! These days I'm lucky to have an editor who's glad I like to daydream.
The other thing I loved to do was read – anything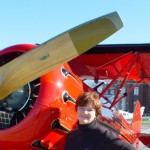 from a cereal box to a Dr. Seuss book to a middle grade novel. My all time favorites were From The Mixed-Up Files of Mrs. Basil E. Frankweiler and everything written by Roald Dahl. I was lucky to have fantastic school librarians and a good public library in my neighborhood. Now I look forward to seeing my book on those library shelves. Check it out!
Happy Reading!
Tami
Download a copy of "Your Friend, Tami Lewis Brown" HERE.
For more about Tami, visit her website HERE.