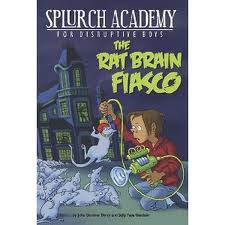 Got a pair of dice? If so, download the plot point reading comprehension board game attached below. Slither and stalk through the ghoulish corridors of the world's creepiest school for boys ever founded. At Splurch Academy, there are monsters at every turn.
Monsters? Or teachers? Hard to tell…
Here's a big ReaderKidZ warning for you. Watch out for the Rebellio-Rodent Recipronater! Take care or you might become the next victim!
Download this .pdf and print on white card stock to play the Ratbrain Fiasco board game…only if you dare.