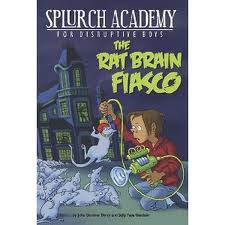 Another fun book for Halloween – or any time of year – is SPLURCH ACADEMY FOR DISRUPTIVE BOYS by Julie Berry, illustrated by Sally Faye Gardner.
Cody Mack is in big trouble  He's an unruly boy and his parents don't know what to do.  The reports on his bad behavior are enough to fill two binders, and Principal Small has no choice but to take drastic measures.  With the blessing of his parents, Cody is placed in the care of Dr. Archibald Farley, Headmaster of Splurch Academy and world-famous specialist in disruptive boys. Splurch is like no other school Cody has ever seen and he and his friends must try to get out of there alive before it's too late!
Check out the official Splurch Academy website HERE and a fun gameboard in the Tool Box HERE.