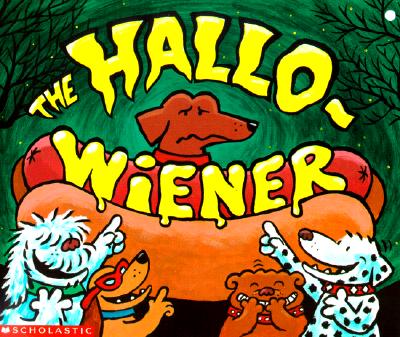 Ask a kid what his or her favorite holiday is, and Halloween is sure to be near the top of the list.  Not only is it a day to dress up in a wacky wig or slip on a pair of clown shoes, but it's the night of homemade hobos and  scary store-bought Draculas.
THE HALLO-WIENER by Dav Pilkey
"There once was a dog named Oscar who was half-a-dog tall and one-and-a-half dogs long." Because of his shape and size, poor Oscar suffered the taunts and scorn of his doggie neighbors. His mother only managed to make things worse.  Each morning as Oscar set off to obedience school, she'd wave and call out, "Farewell, my little Vienna sausage!" How would Oscar ever live down such humiliation?
When his mother provides a surprise homemade Halloween costume – "a giant hot-dog bun, complete with mustard" – Oscar resolves to make the best of a bad situation. Still, it isn't easy.  That silly costume keeps slowing him down!
Before long, the other dogs find themselves scared out of their wits by a "ghastly monster," Oscar comes to their rescue, and he earns the nickname, "Hero Sandwich."
BIG PUMPKIN by Erica Silverman, illustrated by S. D. Schindler
A twist on the Russian folktale, The Big Turnip, BIG PUMPKIN is a tale with all the traditional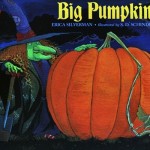 Halloween players (ghost, vampire, witch, mummy, bat).  Silverman's skillful use of rhythm, internal rhyme, and alliteration are a source of great delight.  The *sounds* of this story and the way each line rolls off the tongue are a delicious treat! Illustrations by S.D. Schindler add to the magic.
FRANKIE STEIN by Lola M. Schaefer, illustrated by Kevan Atteberry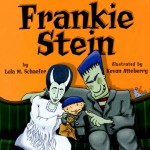 Frankie's proud parents are delighted when Frankie arrives in the world on a "bright, sunny day." But …
Oh, my," his mother exclaims, "He's…cute."
The problem? Frankie truly is cute!
Not to be dissuaded, his parents determine to shower Frankie with scariness.  They try to make Frankie look like a "Stein" by covering up his "lock of sun-gold hair," his pink, smooth face, and his first white tooth.
Frankie never quite manages to act or look scary enough. "But he is a Stein," his parents reason.  "Maybe he just needs a little inspiration."
Kids will love the way that Frankie solves his problem to become "the scariest Stein of all."  That is, until baby sister Francie Stein comes into the world.
MY MONSTER MAMA LOVES ME SO by Laura Leuck, illustrated by Mark Beuhner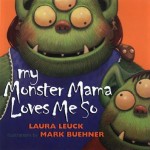 Told in couplets and written in first person, this story is about an adorable monster kid and his loving monster mom.   It's easy to get lost in Mark Teague's engaging illustrations, but it is the first person telling that makes this story work so well.  Kids immediately connect to the monster narrator who loves his mama in the same way they love their own moms.
FRANNY K. STEIN, MAD SCIENTIST: Lunch Walks Among Us by Jim Benton
Having only recently been introduced to the series, ReaderKidZ wonders why it took us so long to hear about these books. Fun spot illustrations, with short blocks of text that amount to a book of 16 chapters,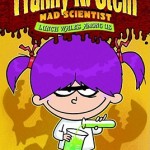 adding up to over 100 pages, these books are just-right for readers is that sometimes long transitional period between just learning to read and gaining the skill to tackle longer, more complicated text. The story line is fresh, the characters, quirky, and the overall package, perfect. What kid could resist a story about a mad-scientist girl whose bedroom is full of "steaming test tubes, strange bubbling beakers" and "crackling electrical gizmos?"
ONLY A WITCH CAN FLY by Allison McGhee, illustrated by Taeeun Yoo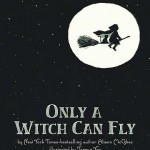 If you're a teacher, witch stories can be tricky things, but what a beautiful picture-book-length poem this story is. A note on the copyright page indicates that ONLY A WITCH CAN FLY is written as a sestina, a form of poetry originating with French troubadours.
From the flap copy: "Only a witch can fly.  But one little girl wants to fly – more than anything. So, on a special night, with moon shining bright… she grips her broom and she tries…"
Linoleum block prints in greens, browns, and blacks convey the soft whispery longing of the text perfectly.
SHIVER STORIES …
SKELETON MAN by Joseph Bruchac. and, if you need a bit more shivers and scare, try the sequel, THE RETURN OF SKELETON MAN.
"As the Skeleton Man starts down the hill toward me…his bony feet are too slippery!  He begins to fall
and then, crashing through the brush and fallen limbs, he rolls right past me and splashes into the river.
"We have to keep running," Says a voice…  It's the rabbit.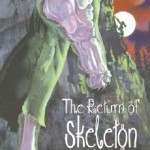 One should not begin this scary skeleton story if one doesn't want to keep reading, reading, and turning pages until the last, scary surprise.
Joseph Bruchac has taken a traditional Abenaki spooky tale, then tweeked and twisted it delightfully into a modern story in which the heroine, Molly, must fight with courage and cunning to save herself.
Both books are fun 'under-the-blanket-with flashlight" reads.  Check HERE for a Tool Box post.
And VERY SCARY POETRY
DARK EMPEROR AND OTHER POEMS OF THE NIGHT by Joyce Sidman, illustrated by Rick Allen – just released!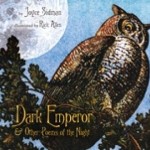 I dare you to open the first page:
"Come feel the cool and shadowed breeze,
Come smell your way among the trees,
Come touch rough bark and leathered leaves
Welcome to the Night."
Perfect poems for great listening and good scares…