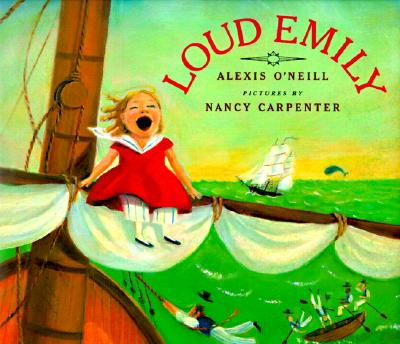 LOUD EMILY by Alexis O'Neill, illustrated by Nancy Carpenter is the perfect book to pair with Author-In-Residence Cynthia Leitich Smith's new picture book, HOLLER LOUDLY.
Another boisterous tale about another loud voice, LOUD EMILY is charmingly full of vim and verve.  Of course, Emily doesn't mean to rattle the brasses and shatter the plates, but "from the moment of birth" her voice boomed in that LOUD Emily way and she simply couldn't help it!
Kids will enjoy the exuberant language, tall ships and sailor jargon, and the way young Emily both finds her place and saves the day, thanks to her LOUD Emily voice and the powerful way she embraces her true Emily self.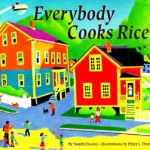 Like Author-In-Residence Tameka Fryer Brown's  AROUND OUR WAY ON NEIGHBORS' DAY, EVERYBODY COOKS RICE by Norah Dooley, illustrated by Peter Thorton takes place in a friendly community of neighbors.  As Carrie travels house-to-house searching for her younger brother, she soon discovers that no matter who she visits, or what part of the world the family is from, "everybody cooks rice."
While the book was published long ago and the premise is somewhat contrived, Everybody Cooks Rice can be used as one among many other books that encourage children to recognize that, despite our differences – including the uniqueness of our voices and communities – we also share many of the same things.  The same basic needs, the same wants, the same dreams.