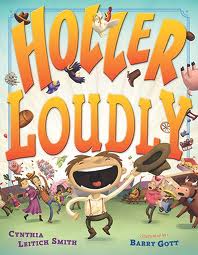 Author Cynthia Leitich Smith has made it darn-tootin' easy for her charming tall tale, HOLLER LOUDLY, to be assimilated in Pre-K through Grade 2 classrooms anywhere in the USA. Why, she's gone and had some larger-than-life cross-curricular classroom guides made that are packed with age-appropriate reading comprehension, vocabulary building, grammar, mathematics, spatial awareness, science, social studies, music, drama, and art activities. All of this and a complete list of annotated academic standards for all levels!
And – if that weren't enough – she's even included a recipe for chocolate chip cookies! Yee haw! Ms. Leitich Smith and guide creator Shannon Morgan sure know how to treat a teacher right.
Download the classroom guides below and keep HOLLER LOUDLY on your classroom bookshelf for a long, long time.
Holler Loudly – Guide for Pre-K
Holler Loudly – Guide for Kindergarten
Holler Loudly – Guide for 1st Grade