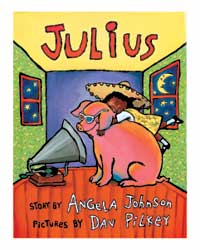 JULIUS by Angela Johnson, illustrations by Dav Pilkey
Granddaddy's mailed a gift for Maya, all the way from Alaska! She's been hoping for a horse. Or an older brother. Instead, out of the crate comes Julius.  A big and busy pig who quickly becomes Maya's very best friend.
Julius leaves huge messes, eats too much peanut butter, and makes too much noise! Maya's mom and dad are not pleased.
Will Maya be able to help her friend Julius learn to be the best pig he can be?
MANAÑA, IGUANA by Ann Whitford Paul, illustrations by Ethan Long
Dear Amigo:
Please come to my fiesta this sábado.
Iguana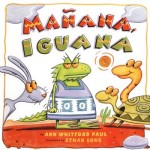 Iguana is planning a party to celebrate Spring, and Conejo, Tortuga, and Culebra are excited. A fiesta! Sí!
But when it's time to help with preparations, Conejo complains that he writes too fast. Who'll be able to read his words?  Tortuga has the opposite problem.  He writes too slow.   And poor Culebra (Snake). Can it be his fault that he's not able to hold a pen?
The friends seem willing to help, but all they ever say is:  "Mañana, Iguana."
Mañana will never do and Iguana, like the Little Red Hen whose friendship woes this tale is loosely based on, resolves to do the work "all by herself."
Happily, in this tale, Conejo, Tortuga, and Culebra come to their senses and show Iguana what good friends they truly are.
POPPLETON AND FRIENDS by Cynthia Rylant, illustrated by Mark Teague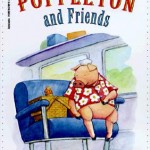 What could a mouse named Hudson and a llama named Cherry Sue possibly have in common with a pink pig named Poppleton?
As it turns out, they're neighbors and good friends and together they help make Poppleton's days just a little bit richer.
Whether Poppleton and Hudson are telling Cherry Sue about their bus ride to the shore and the songs and dances they learned from a club of older ladies who call themselves the Sassy Sues, or Hudson and his Uncle Bill are convincing Poppleton that good friends are the key to a long, happy life, kids are sure to get a kick out of the unusual situations the well-meaning Poppleton finds himself in.
GEORGE AND MARTHA by James Marshall
George and Martha are great friends. Who but George would be willing to eat, without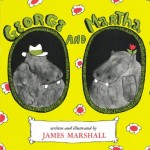 complaint, ten bowls of the split pea soup Martha's so fond of making?
And who but Martha would forgive George when he reaches his limit and carefully dumps bowl number eleven into his loafers under the table?
Over the years, James Marshall – known for his carefully-pitched humor and timing – has penned some of the funniest and most memorable books in children's literature. The GEORGE AND MARTHA collection is one of his most well-known and has earned a prominent place alongside other timeless favorites.
BUBBA AND BEAU, BEST FRIENDS by Kathi Appelt, illustrations by Arthur Howard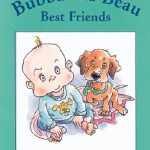 Bubba Junior is the perfect little baby of Big Bubba and Mama Pearl.  Beau is the perfect little hound-puppy of Maurice and Evelyn.
Each loves to chew and crawl on all fours, neither is house-trained, and they both "howl to beat the band."
"Sister, those two got along." In no time at all, Bubba and Beau were best friends.
When Mama Pearl throws Bubba's pinkity pink, cottony-soft blanket into the wash, it's one sad day in "Bubbaville."  Will Bubba's blankie ever be the same?