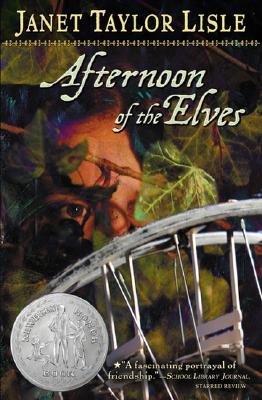 Afternoon of the Elves by Janet Taylor Lisle
They were neighbors before they were friends. Sarah-Kate's yard backed up to Hillary's and now Sarah-Kate is claiming elves live in the junky overgrown space around her house.
At first, it seemed impossible.  Elves! But Hillary'd seen the tiny houses made of stick and bits of wire.  And there was something, "a faint vibration or buzz" in the air…
Despite her mother's urgings to stay away, Hillary was determined to learn more about the elves. And her mysterious new friend and her friend's mother, who fluttered, almost imperceptibly, behind shade-drawn windows.
AFTERNOON OF THE ELVES is a book not to be missed and deserving of the Newbery Honor it won some twenty years ago.
Clementine, Friend of the Week by Sara Pennypacker, illustrations by Marla Frazee
Clementine has been chosen friend-of-the-week. She'll share her autobiography, be line leader and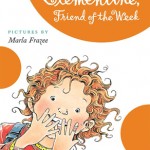 classroom helper, and all-around special person – for a full five days!
Margaret, Clementine's best friend, claims she knows exactly how to help Clementine get a Friend-of-the-Week booklet, full of compliments, just like the one she received in third grade. But does Margaret really know what she's talking about?

Fourth in the series, CLEMENTINE, FRIEND OF THE WEEK, is full of Clementine personality. With a surprise ending that warms the heart, this just might be the best book in the series yet!
The Tiger Rising by Kate Di Camillo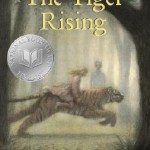 The day he stumbled upon a real live tiger in the woods behind the Kentucky Star Motel, where he and his father had been living ever since they left Jacksonville, Rob Horton had a feeling his luck was about to change. But even he couldn't have imagined how that one, unbelievable, discovery would lead him to eventually free the tiger from its cage, and his own heart from the sadness he'd locked away since his mother's death.
This 2001 National Book Award Finalist winner was published after Because of Winn-Dixie but still remains a favorite, almost ten years later.
The Adventures of Ook and Gluk, Kung-Fu Cavemen from the Future by Dav Pilkey
Full of all the fun and cleverness that makes Dav Pilkey a favorite of many young readers, Ook (rhymes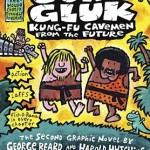 with "duke") and Gluck (rhymes with "duck") don't disappoint.  The cover promises "action," "laffs" and a "flip-o-rama in every chapter."  Really.  This book is going to please readers of all ages, leaving a smile on the faces of those who carry on to the end.  There's even a bonus section for the reader who want to learn to speak caveman language!  What could be better?
Some parents and teachers may object to all the misspellings and grammar bloopers, but, honestly, the book's sure to be a hit and kids will be holding their breath waiting for the next in the series.
Bink and Gollie by Kate DiCamillo and Alison McGhee, illustrated by Tony Fucile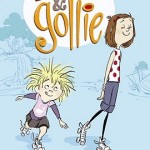 We made a note to check out BINK AND GOLLIE when we first heard about it and now that the book is on store shelves, we can say, without reservation, that it lives up to our high expectations.
In three short chapters, spare text by DiCamillo and McGhee joins with the very charming illustrations of Tony Fucile in a way that allows Bink and Gollie's warm friendship to shine through.
It's a well-matched collaboration and we have to agree that the result is something quite unlike anything we've seen before in books for young readers.
There have been several interviews (here and here) about the unusual way the book came to be written and we're certain there will be many fans, ourselves included, who'll be looking for more.
Rick and Rack and the Great Outdoors by Ethan Long
Who knew fishing or hiking or canoeing could be so much fun?   Or that Balloon Toons™, a new series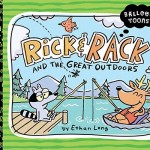 from Chronicle Books could be just the right thing for emerging young readers?
All we say is, what a marvelous idea , and make sure to check out the other new books in this series!
A note from the Chronicle website explains the concept behind Balloon Toons™: "Award-winning and up-and-coming cartoonists lend their inimitable and illustrative talents to entertaining stories kids will enjoy again and again."