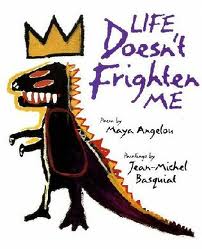 Maya Angelou's insightful poem offers the young reader an opportunty to boldly challenge any fear that haunts them. To faciliate an in-depth study of Life Doesn't Frighten Me at All download the following .pdf attachment.
A creative activity inspired by Life Doesn't Frighten Me .pdf download
Hey! You! Panthers in the park and strangers in the dark! You'd better run because you don't frighten me at all!
Well, maybe just a little bit.