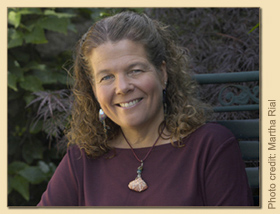 We're very pleased to welcome Karen Lynn Williams to ReaderKidZ. Karen is the author of many fine books, including several we've featured in "Beyond Boundaries" over the past few months.
Where do your stories come from?
My stories come from everywhere and anywhere.  I see and hear stories around me all the time.  The ideas come from people I have met, adventures I have had.  They come from the kids next door, my own children, my childhood and children I have met around the world.  They come from the newspaper and radio and the internet and yes even other books.  As a writer I look at the world through a writer's eye.  So everything that happens around me makes me ask, "How can I use that in a story?"
Mostly the stories come from inside me.  They come from my interests and dreams and passions.  I write about the things that are important to me, the ideas and images I cannot let go of.

How have the places you've lived and the children you've met influenced your writing?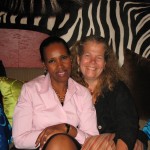 I have always been interested in childhood.  That is because I feel the best parts of who I am comes from my childhood and in some ways I was a better person then, more open and questioning, a little naïve.  I respect children and childhood so when I travel the children I meet interest me most; the games they play, their problems and how they solve them, and simply how they live and think and play and work.  When I travel my writer's eye is on high alert.  Living in cultures different from my own I find everything to be new and interesting.  In Malawi I was drawn to the way children make their own toys.  In Haiti the brightly colored pickup trucks used for public transportation captured my imagination as did the Haitian artwork.  Mostly I am attracted to the spirit and the graciousness, generosity, pride, humbleness and the ability to endure of all the people I have met in these cultures.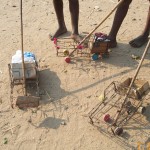 How do you hope your books will useful (or used) by teachers, librarians and parents?  What are the themes you hope will resonate with young readers?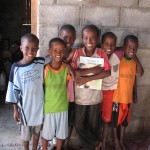 I hope that my readers we be able to get an insight into the lives of the people in places they may never get to.  I hope that young people and adults will share the world with each other.  I hope some of my readers will be inspired to travel and learn about our world.  I want my readers to be able to put themselves into someone else's life for a little while.  It can be the life a girl in Pittsburgh who has trouble learning to read or a child in Malawi who has the creativity to make his own toys. The themes that interest me most are sharing with a friend or with the world, recycling, and the environment, nature, creativity, imagination and persistence and the courage to endure.  A little part of me says maybe I can help make the world a better place.  But mostly I want to tell a good story that will capture my readers and inspire them to think beyond their own lives.

If a child would ask about one of your books, "Why should I read this book?"  What would you answer?
I would say read this book for an adventure.  Let it take you someplace new, to a new world or read for new ideas.  Read it to escape for a while.   Take a journey right from the porch swing in your own yard or under the covers in your own bed or with your friends in school. And imagine.  Every book should take you someplace new, and make a new friend for you.  Read this book and then share it with someone special to you.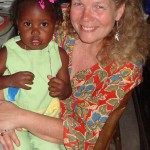 What new stories will readers be reading in your future books?
I have two more picture books about Africa coming out.  Lubuto Means Light, takes place in Zambia and it is about a street child who finds a home in the library.
The other, I am Beatrice, is a photo essay about a girl living in Kibera slums in Nairobi, Kenya the largest slum in Africa.
I am also working on a novel about a boy who lives in the slums of Nairobi.  He is an aids orphan and when his best friend is killed in a hit and run car accident, he ends up living on the streets where he learns about himself and who is friend really was.
I have many other projects in various stages of completion and still more ideas everyday.

Read more about Karen on her website HERE.