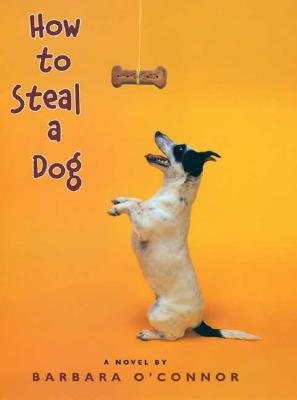 How to Steal a Dog by Barbara O'Connor
When Georgina Hayes's daddy takes off leaving her Mama, little brother, Toby, and Georgina behind, the three end up living in the Chevrolet until Mama can save enough to make things right again.
But Mama's two jobs don't bring in money as fast as Georgina would like, and when her best friend, Luanne Godfrey, discovers Georgina's big secret, she knows she's got to take matters into her own hands. After all, "Three rolls of quarters and a mayonnaise jar of wadded-up dollar bills" will never be enough to get them out of that car and into a real house.
Georgina's plan? Temporarily "steal" a dog and cash in on the reward. But things don't go the way she'd planned and as the days go by, Georgina finds her "How to Steal a Dog" list getting longer and more complicated.
With no reward money in sight and a awful ache growing in the pit of her stomach, Georgina must make an important decision.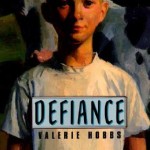 Toby Steiner wants his parents to leave him alone.  He wants to ride his bike, hike, go out on the lake, and fish with his dad. Regular type things. Things that all boys his age do.
But Toby and his mom have already been at the rented cabin for three weeks and Toby's dad's only been been able to visit for a few days. Toby has to handle all his mother's worries about his recently finished cancer treatments, alone.
And then there are Toby's mother's constant reminders to be careful about every little thing, leaving Toby to feel like a prisoner to her over-protectiveness and the zillions of capsules, tablets, and vitamins that are meant to keep him well.
But small change happens sometimes when it's least expected, and when Toby meets a skinny old cow named Blossom, and Blossom's spunky owner, an elderly, nearly blind woman named Pearl, he makes a pair of new friends and begins to look at his family and his cancer in a different way.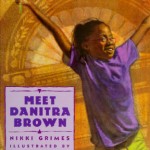 Meet Danitra Brown by Nikki Grimes, illustrations by Floyd Cooper
"You oughta meet Danitra Brown/ the most splendiferous girl in town."
Danitra is, indeed, "splendiferous." She's a good friend and with her "purple socks and jeans and sneakers, purple ribbons for her hair," Danitra "just might be a princess. After all, who's to say?"
Whether they're sharing a Popsicle on the front stoop, flying down the street on bikes, or walking away from dumb old Freddy Watson's name-calling, Danitra and Zuri are a team that can't be beat.
Freedom Summer by Deborah Wiles, illustrated by Jerome Lagarrigue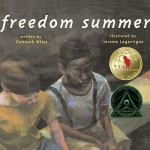 Joe and John Henry Waddell are best friends.  Joe is white.  John Henry is black.  The boys spend their summer days together shooting marbles, shelling butter beans, and splashing in Fiddler's Creek.
Then, the Civil Rights Act of 1964 passes and Joe's daddy makes an announcement: "The town pool opens tomorrow to everybody under the sun, no matter what color."
The next day, the two boys, anxious to swim and dive for good luck nickels, race to the town pool. When they arrive, there's John Henry's big brother, "raking asphalt into the hole where sparkling clean water used to be.
Joe and John Henry won't be able to jump to the bottom of this pool, and the boys learn that it takes more than a law to change the minds and hearts of a community.
The Quail Club by Carolyn Marsden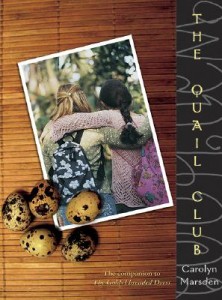 Fifth-grader, Oy, has lived in America since she was five, but that doesn't mean that she's doesn't still love learning traditional Thai dances on Saturdays from her dancing teacher, Pak, in the back of Pak's store.
When her teacher announces a talent show, Oy immediately thinks of the beautiful silk dress she'll wear and the dances Pak has taught her. But when classmate and friend, Liliandra, the sometimes bossy leader of the Quail Club, finds out that none of the other members want to perfrom with her in the talent show and that Oy has her own plans, Liliandra makes an ultimatum: "If you don't dance with me,… I will kick you out of the Quail Club."  Oy loves being in The Quail Club.  What should she do?