THE SMALL ADVENTURE OF POPEYE AND ELVIS is another gem from this month's Author-In-Residence, Barbara O'Connor.
It's been raining for over a week and when Popeye awakens to the Drip. Drip. Drip. of rusty water squeezing its way out of a hole in the peeling plaster above his bed, it looks like it's going to be another do-nothing, go-nowhere day in Fayette, South Carolina.
But the rain stops, the clouds part, and before long, Popeye's heading up the road, glad to be outside and free.  There, he runs across a motor home, big as a house, stuck in the gloppy red mud.
When a passel of scruffy kids come spilling out of the Holiday Rambler, their older brother, Elvis, in the lead, Popeye isn't certain what to do.  But before he knows what's happened, Elvis is slapping him on the shoulder, inviting him to be in the kids' Spit and Swear Club, and making him the club's new senior vice president.
Popeye and Elvis are off, on their very own small adventure!
FROG AND TOAD ARE FRIENDS by Arnold Lobel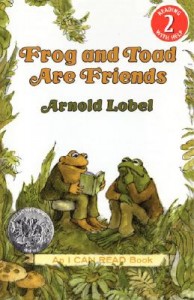 Who but dear Toad can respond with "Blah" when his best friend, Frog, comes calling on a beautiful spring day? Ever the cheery one, Frog is unperturbed. He knows that the "clear warm light of April" means that he and his friend "can begin a whole new year together."  Through Spring, Summer, Fall, and Winter, Frog and Toad are best friends forever.
Lobel's award-winning EZ reader series (Frog and Toad are Friends won a Caldecott Honor, Frog and Toad Together won a Newbery Honor) has stood the test of time and  been a favorite of kids, parents, teachers, and librarians for over 40 years.
CITY DOG, COUNTRY FROG by Mo Willems, illustrated by Jon J. Muth
A quick glance at the title of this book and its author – known for his humorous Pigeon, Knuffle Bunny, Elephant and Pig, and other wonderful books – and it's easy to assume that CITY DOG, COUNTRY FROG will be another raucous tale of friendship.
But this book is different. Like Lobel's Frog and Toad, Dog and Frog are friends through spring and summer.  But by the time fall arrives, Country Frog is tired and the two friends spend their together time remembering the frog and dog games they enjoyed earlier in the year.
When winter comes and City Dog arrives at Frog's special rock looking for his good friend, Country Frog is nowhere to be found. The change of seasons has brought the reality of the natural course of life and City Dog is left to pass the cold months alone.
The days grow longer and, soon, spring arrives in all its glory. With it, friendship blooms again for Dog and a new country friend.
MARGARET AND MARGARITA by Lynn Reiser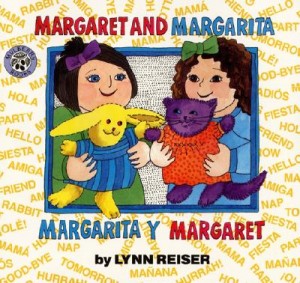 Margaret speaks only English. Margarita, only Spanish. When they meet one another in the park, they quickly discover that a smile and kind words, in any language, go a long way.
With charming pen and watercolor illustrations by the author, MARGARET AND MARGARITA is a an example of a bilingual book at its finest.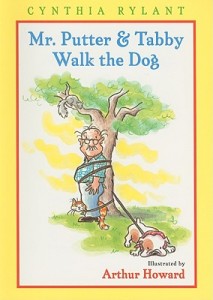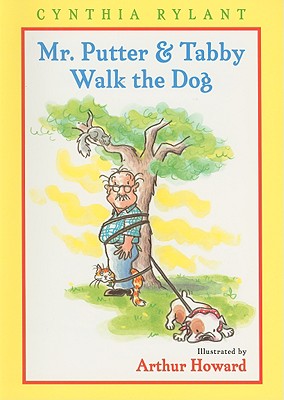 MR. PUTTER AND TABBY WALK THE DOG by Cynthia Rylant, illustrated by Arthur Howard
Mr. Putter has two good friends: Mrs. Teaberry, his next-door neighbor, and his fine cat, Tabby. When Mrs. Teaberry slips and hurts her foot, the doctor orders rest – they'll be no walking her "little lollypup," Zeke. Good old Mr. Putter's soft heart gets the best of him, and he offers to do the job.
"I hope he doesn't tug." Mrs. Teaberry says.
"Zeke won't tug." Mr. Putter assures her.
"I hope he doesn't wrap around trees," says Mrs. Teaberry.
"Oh, no." Mr. Putter replies.  "Zeke won't wrap."
Mr. Putter is sure Zeke is a good dog, a fine dog, a dream dog. Of course, there are problems. But together, Mr. Putter and Tabby and Zeke work things out and by the time Mr. Putter drops Zeke off at Mrs. Teaberry's house for the last time, he and Tabby are ready for a big friendly celebration of their own!