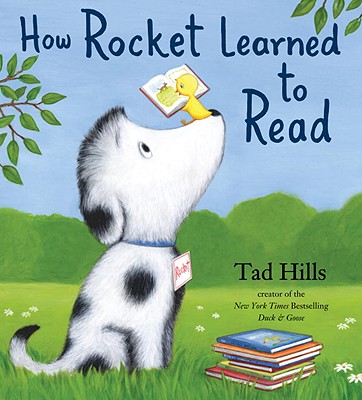 HOW ROCKET LEARNED TO READ by Tad Hills
Tad Hills (Duck and Goose) is back with another perfect book for beginning-to-read ReaderKidZ  (and even for those who are already experts!).
Until the little yellow bird comes along, Rocket is perfectly happy chasing leaves, chewing sticks, and lying down under a favorite tree for a nap.  He doesn't know how to read and doesn't care to. But then the little bird opens a book and begins to sing out a story of Buster, a dog who's lost his favorite bone, and just when the story begins to get really interesting … the bird disappears and Rocket is left wondering how the story will turn out!
That's all the incentive Rocket needs to be ready and waiting the next morning when the yellow bird arrives at her tree.  Reading's not so boring, after all, and before long, Rocket is learning the wonders of the mighty alphabet, reading and spelling, spelling and reading "again. And again. And A-G-A-I-N."
LIBRARY LION by Michelle Knudsen, illustrated by Kevin Hawkes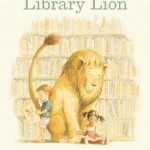 There's a lion in the library, wandering around, sniffing the card catalog, and sleeping in the story corner.  He's allowed to stay.  After all, there aren't any rules about lions in the library. Until, that is, this lion ROARS and Miss Merriweather, the librarian, marches over to see what's up.  The children know right away what the lion wants. Stories.
With a promise to be a nice, quiet lion, he's invited back for the next day. Soon he's helping Miss Merriweather with all sorts of important library tasks, including the lesson that sometimes, even in the library, there's a good reason to break the rules.
An ode to libraries everywhere, the story of the LIBRARY LION, paired with Kevin Hawkes's exquisite illustrations, has the feel of a beloved classic.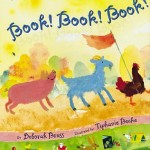 BOOK! BOOK! BOOK! by Deborah Bruss, illustrated by Tiphanie Beeke
Once the children have gone back to school, what are the farm animals to do? Pig pouts, cow complains, goat grumbles and before long, the animals have taken matters into their own hands (hooves!) and headed off to town.
When they see happy faces coming out of the library, the animals know they've found just the place they were looking for.
A twist on "animal speak" brings a delightful surprise and makes this picture book a joy to read aloud.
WOLF! by Becky Bloom, illustrated by Pascal Biet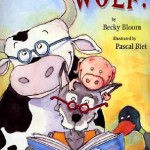 Poor Wolf!  Pig, Duck, and Cow are more annoyed than worried when Wolf's howling and growling keep them from concentrating on their books.  It seems Wolf has tried to be "big and dangerous" on their "farm for educated animals" and they're none too pleased.
Incensed, Wolf heads off to school.  There he learns the basics of reading, and with lots of practice, improves his read-aloud style to the point that, by story's end, Wolf enchants his new-found friends with his story-telling skill.