THE STORY OF RUBY BRIDGES by Robert Coles, illustrated by George Ford.
This true-to-life story of six-year-old Ruby Bridges whose courage to begin school also helped the integration of schools in New Orleans.  Reading the fears and feelings of Ruby is a great platform for sharing the many kinds of fears around "first day."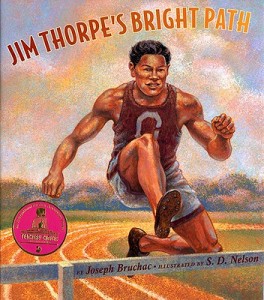 JIM THORPE'S BRIGHT PATH by Joseph Bruchac, illustrated by S.D. Nelson.
Perhaps the most talented athlete this country has ever seen, Jim Thorpe began his first attempts at school and sports with frustration and failure.  This biography shows the hardships experienced by young Native American students at boarding schools, including not using their names, their language or their own traditional knowledge.  Children who are new to this country – or new to a school – will appreciate the tough and often lonely experiences of young Jim Thorpe.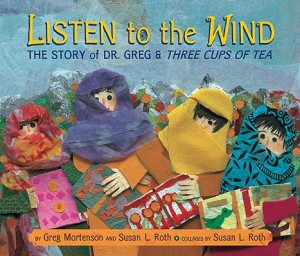 LISTEN TO THE WIND: THE STORY OF DR. GREG & THREE CUPS OF TEA by Greg Mortenson and Susan L. Roth or Mortenston's longer account, THREE CUPS OF TEA: ONE MAN'S JOURNEY TO CHANGE THE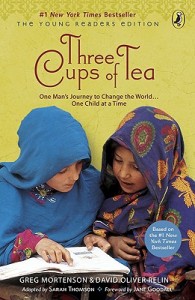 WORLD…ONE CHILD AT A TIME by Greg Mortenson, David Oliver Relin, and Sarah Thomson.
Both books show that some parents read to children at bedtime by candlelight because there is no electricity and often there are no school.  What would it be like to NOT be allowed to go to school?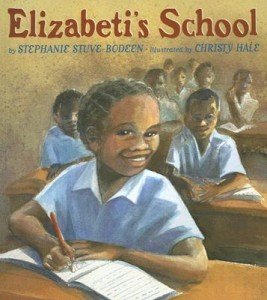 ELIZABETI'S SCHOOL by Stephanie Stuve-Bodeen, illustrated by Christy Hale.
Young readers who have enjoyed ELIZABETI'S DOLL can follow Elizabeti to her first school day, told with charm and detail.
Find more book recommendations in the BOOK ROOM.